Two Britons in Afghanistan face gun charges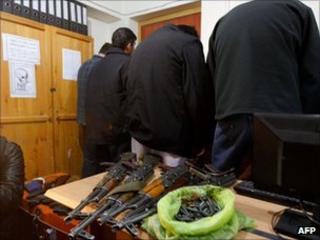 Two British private security contractors working in Afghanistan have been charged with carrying unlicensed weapons.
The men, who work for the Canadian company, Garda World, were arrested by police earlier this month in the eastern part of the capital, Kabul.
It is alleged 30 AK-47 assault rifles were found in their vehicle.
Afghan authorities claim the weapons were illegal and many were missing their serial numbers.
It is understood the contractors' Afghan driver and interpreter have also been charged.
The Foreign Office said: "The two British nationals arrested by Afghan police in Kabul on 3 January remain in detention pending further investigation.
"We understand that their company, Garda World, are co-operating with the Afghan authorities and hope that the situation will be rectified soon."
Thousands of private security guards operate in Afghanistan, including many foreigners.
Afghan President Hamid Karzai has in the past accused them of undermining the security services and taking work from Afghan nationals.