Army chief warns of ongoing risks post-Afghan conflict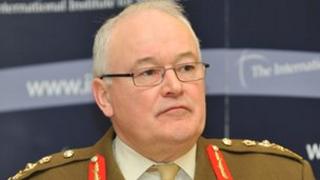 The end of the war in Afghanistan will not lower the risk of military engagements, the head of the Army, Gen Sir Peter Wall, has warned.
In a speech he said a return to dealing with incidents as they arose rather than prolonged conflicts could in fact increase the chance of bloodshed.
He said this was because troops would have had less time to prepare or equip for missions.
The British military is due to pull out from Afghanistan by the end of 2014.
The Chief of the General Staff used the speech, at the International Institute for Strategic Studies in London, to set out his priorities for the Army after that time.
He said the close scrutiny to which both the government and armed forces had been subjected by the media, public inquiries and coroners' inquests over the campaigns in Afghanistan and Iraq had "reset the appetite for, and handling of, risk in military operations".
"I sense this is unlikely to be reversed," he said.
"There will be an expectation in some circles in society that the sort of zero-risk culture that is understandably sought in many other walks of life ought to be achievable on the battlefield," he added.
'Engaging with communities'
But Gen Wall said while the Army had understood and bounded the threats and risks in the Afghan "theatre", the same could not necessarily be said of future events where the military might be called on to respond.
He said: "It would be interesting to see how this plays out in a fast-moving crisis where we are required to deploy at short notice, with a fraction of the understanding we have developed of the situation on the ground and the people in the Helmand valley.
"It is highly likely, that in the early days of an expeditionary operation in a relatively benign theatre, the operating risks are going to be greater, and pose more challenges at all levels of command up to the top of government, than is the case in a more mature campaign in a more dangerous theatre," he said.
Answering questions after his speech, Gen Wall said that attracting more ethnic minority recruits, with family roots in countries prone to producing terrorists, could help tackle the global terror threat.
He said: "We do not have a brilliant track record in the Army of recruiting from certain ethnic communities across the UK.
"We have got to find a way of engaging with communities which perhaps are not naturally inclined to join the soldiering profession."