Newspaper review: Fred Goodwin dominates front pages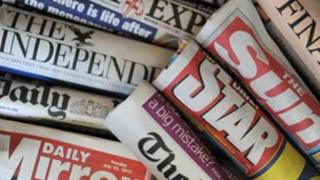 The annulment of Fred Goodwin's knighthood dominates the front pages of most of the morning papers.
"Dishonoured" reads the Independent's headline, while the Daily Mail's proclaims the "humbling of Mister Goodwin".
The Financial Times says it took three years and a political maelstrom over his successor's bonus for it to happen.
It believes few tears will be shed for the man whose ruthless cost-cutting earned him the nickname "Fred the Shred".
'Something tawdry'
The Guardian reports the decision has provoked a "cacophony of calls" for similar action against other miscreant bankers, politicians and regulators.
But concerns are also raised about Mr Goodwin's treatment.
Writing in the Times, former Chancellor Alistair Darling sees "something tawdry about the government directing its fire at Fred Goodwin alone".
Some in the City called it a "sideshow" which threatened efforts to aid the economy, the Daily Telegraph reports.
Indian deal
The Times says the UK aviation industry has suffered a significant blow.
A French company has been selected as first choice to build fighter jets for the Indian Air Force, it reports.
The Daily Mirror is among many papers picturing a climber scaling a sheer rock face with her two-year-old daughter strapped to her back.
Menna Pritchard drew criticism after posting the photo on her blog - not least because she was wearing a helmet but her daughter, Ffion, was not.
Stilts a-maze
Finally, the Daily Express describes how gardeners have found a novel way to to cut time spent trimming one of the world's longest hedge mazes.
It used to take a month for a team of five to get round the 16,000 yew plants on scaffolding at Longleat House in Wiltshire.
Now two people can do the job in just a week using stilts.
The Daily Mail suggests that their biggest feat was getting the idea past health and safety inspectors.