Phone-hacking scandal: Mulcaire loses evidence appeal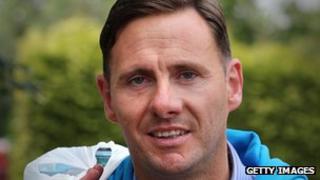 Private investigator Glenn Mulcaire has lost his appeal against two court orders that could force him to name people who ordered him to hack phones.
A High Court panel heard the appeal at the Royal Courts of Justice in November but had reserved its judgement.
Mulcaire had appealed to try to avoid having to answer questions in civil proceedings that could incriminate him.
After the judgement was handed down, he issued a statement saying he intended to take his case to the Supreme Court.
In the statement, Mulcaire - who was not in court on Monday - said he was pleased the court had recognised the "long-standing common law privilege against self-incrimination" in its ruling.
"Though it considered that the Act [Senior Courts Act 1981] removed my privilege in these two cases, the Court of Appeal considered the arguments put forward on my behalf in great detail in its judgement," his statement said.
"I intend to appeal this ruling to the Supreme Court because this may affect my right to claim the privilege in other civil cases still being brought against me."
In their ruling, the Lord Chief Justice, Lord Judge, Master of the Rolls Lord Neuberger, and Lord Justice Maurice Kay refused Mulcaire automatic permission to appeal.
But the judges granted a stay until 17:00 GMT on Monday 6 February allowing Mulcaire the opportunity to directly petition the Supreme Court to ask if it will look at his case.
The Supreme Court only deals with the most important cases where the top judges have to decide on a point of law which is of general public importance.
Phone hacking
Mulcaire was jailed in January 2007 for six months along with the News of the World's royal correspondent Clive Goodman for illegally accessing voicemails of members of the royal household.
At the time he surrendered notebooks to the police containing information about phone hacking.
Mulcaire was contracted to the former newspaper to undertake "research assignments" from at least September 2001.
Comedian Steve Coogan and PR consultant Nicola Phillips, a former employee of the publicist Max Clifford, have since launched civil privacy cases against News International, the publisher of the now defunct Sunday tabloid, and Mulcaire.
Currently if questioned in the cases, Mulcaire would have to explain how he obtained voicemail numbers and passwords and who provided the details.
After Monday's ruling, Mr Coogan's solicitor, John Kelly said: "This is a very significant decision and is a landmark ruling in the area of privilege against self-incrimination.
"The Coogan decision is likely to be relied upon by other phone-hacking victims to assist them in their cases against NGN [News Group Newspapers] and Mulcaire."
Miss Phillips' lawyer said she was delighted that the appeal had been dismissed "and that an application to the Court of Appeal for permission to appeal to the Supreme Court has been refused".
Solicitor Mark Lewis said his client hoped she would soon find out who at News of the World had instructed Mulcaire.
"She is naturally disappointed to see that Mr Mulcaire has indicated that he will ask the Supreme Court for permission to appeal further," he said.