TAVI patient Eric Leeper's wife's cuddle saves his life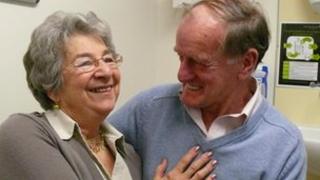 After 60 years of marriage Eric and Margaret Leeper still love a cuddle, but when Mrs Leeper, 78, put her head on her husband's chest she heard a "swishing" noise and realised something was wrong.
"It sounded like there was running water in his chest, I didn't say anything at the time but I knew something was wrong."
Tests revealed the retired engineer, who lives in Bishopbriggs, Scotland, was suffering from a narrowed heart value.
But because of his age and the fact that he had already had a quadruple heart bypass, the odds of him surviving further open heart surgery were slim.
Specialists at Glasgow's Stobhill Hospital recommended Mr Leeper undergo a transcatheter aortic valve implantation procedure (TAVI).
The operation - involving a small cut in the patient's groin or chest through which a new valve is fitted - is far less risky than open heart surgery, but is currently not funded in Scotland.
The couple did their research and asked to be referred to consultant cardiologist Dr Douglas Muir at the James Cook University Hospital in Middlesbrough.
'Top of the world'
The TAVI was performed in November and four days later Mr Leeper, a grandfather-of-four, was fit enough to return home and within weeks was back on the golf course and playing bowls.
Mr Leeper: "I cannot express how well I feel - it feels like I have a new life. After open heart surgery there is terrible discomfort and tightness in the chest for weeks, but after this procedure, I felt on top of the world.
"When I came round after a couple of hours, I just thought: 'that was quick.' The hospital team was fantastic."
In England there are 17 hospital trusts which offer the TAVI procedure. It was introduced at the James Cook Hospital in 2009 and so far 85 patients have undergone the surgery - the youngest is 73 and the oldest 93.
Mr Muir said his eight-strong medical team had recently carried out the procedure on two patients from the west of Scotland and another from North Yorkshire.
The operation costs their local authorities between £20,000 and £30,000 per patient.
Mr Muir said Mr Leeper was doing "extremely" well, but having to travel hundreds of miles for the operation was not "ideal".
'More healing involved'
He believes it should be offered at more centres around the UK to save patient travel time - health authorities in Scotland will fund patients to have the treatment elsewhere, but it is discretionary.
Mr Muir said: "We are absolutely happy to help out - but it is not ideal to have elderly patients travelling hundreds of miles - it is risky, in my opinion."
Of his 85 TAVI patients, three have died - a success rate of 98%.
The team, including surgeons and anaesthetists, carries out about one TAVI procedure a month and there are about 12 patients waiting for treatment.
Mrs Leeper said they did not mind the travelling as the couple have family in nearby Richmond.
Mr Muir added: "Open heart surgery is the gold standard treatment for patients with narrowing aortic valves for younger healthier patients.
"But it is risky for older patients who have other medical problems because the heart is stopped during the operation and there is more healing involved."
Last year the Scottish Cardiac Society urged the Scottish government to fund TAVI operations.
But the government said a review found limited evidence to support its introduction, but although it did say a further review would take place.