Stephen Lawrence killers' sentences will not be reviewed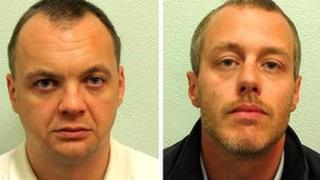 The sentences handed to Gary Dobson and David Norris for the racist murder of black teenager Stephen Lawrence will not be reviewed, it has emerged.
Attorney General Dominic Grieve said the sentences will not be referred to the Court of Appeal for a decision on whether they are "unduly lenient".
He said the minimum terms are "within the appropriate range of sentences".
Mr Grieve said the pair will not be released until, or unless, the Parole Board thinks they pose no further risk.
The pair were sentenced to life after being found guilty by an Old Bailey jury at the beginning of January.
Dobson was ordered to serve a minimum of 15 years and two months, and Norris 14 years and three months.
Explaining his decision not to refer the sentences to the Court of Appeal, Mr Grieve said: "This was a despicable and appalling crime.
"Justice was long delayed and I can fully understand why some people are unhappy that the minimum terms handed down were not longer.
"However, having considered the sentences carefully I have come to the conclusion that the minimum terms are within the appropriate range of sentences, bearing in mind the offenders' ages at the time of the crime, and therefore I have decided not to refer them to the Court of Appeal."
He stressed that the terms were the minimum periods that will actually be served.
"Dobson and Norris will not be released unless and until the Parole Board considers they do not pose a risk," he said.
Dobson, 36, and Norris, 35, were the first people convicted over the fatal attack on Mr Lawrence by a group of white youths near a bus stop in Eltham, in south-east London, on 22 April 1993.
Earlier this week it emerged that the men are to appeal against their convictions.