Leveson Inquiry: Abigail Witchalls's mother describes press intrusion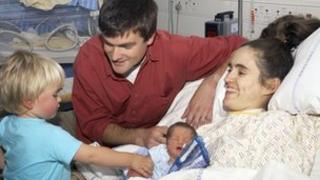 The mother of stabbing victim Abigail Witchalls has told the Leveson Inquiry that press intrusion was almost more traumatic than the attack itself.
Baroness Hollins said media coverage after her daughter was attacked in 2005 was "just everywhere, every day".
"The police actually mounted a guard on each door of the hospital ward to protect her privacy," she said.
Abigail Witchalls was left partly paralysed after being stabbed in the neck near her Surrey home in 2005.
She was in the early stages of pregnancy, months later giving birth to her second child.
Baroness Hollins said intensive media coverage surrounding her daughter went on for months after the attack.
"Every time there was any piece of news it was always front-page," she said. "It was incredibly intrusive."
She went on: "The police actually had to order the press out the garden where my daughter was living."
Baroness Hollins said that a journalist had arrived at her terminally-ill mother's house and refused to leave without a photograph until police were called.
"It was a big task - there was a child to look after, there was someone critically ill to attend to.
Story 'fabrication'
"We couldn't trust anybody and it began to form ... a division amongst members of the family on how to deal with it."
She said the press response had been more distressing than the attack itself.
There had also been "a lot of fabrication" in the media coverage, she said, citing stories such as one about a holiday that had never happened.
Baroness Hollins said she and her family had complained to the Press Complaints Commission (PCC), the voluntary regulatory body for UK print journalism.
She said the PCC seemed to be interested in dealing with one particular incident, whereas her distress was "not about one particular incident but about hundreds of incidents".
"We felt there wasn't any point complaining. It didn't seem as if anything would change. We didn't pursue the complaint," she told the inquiry.
The BBC's Ross Hawkins said: "We have heard here from a witness who never sought any sort of publicity and certainly never did anything wrong, at the centre of instrusion and interest that she just couldn't do anything about."
Our correspondent said one section of the inquiry was beginning to draw to a close, after which the inquiry will turn its attention to the relationship between the press and police, and between the press and politicians.
The Leveson Inquiry was set up by Prime Minister David Cameron in July 2011 amid new revelations of phone hacking at the now-closed News of the World (NoW) newspaper.
The first phase is examining the practices and ethics of the media.
The second will focus on unlawful conduct by the press and the police's initial hacking investigation, only after a police investigation into phone hacking at the NoW is complete.
Lord Leveson is expected to submit his final report by September.