Restraint deaths review after BBC investigation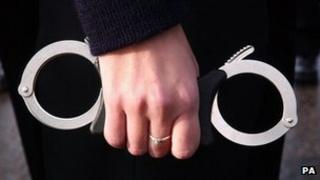 A watchdog has announced a review of the way it deals with police contact deaths following a BBC investigation.
BBC Radio 4's File on 4 programme found that official figures understated the number of people who die after being restrained by police.
The Independent Police Complaints Commission said the review would look at its approach to such cases.
Commons Home Affairs Committee chairman Keith Vaz said the BBC's findings were concerning and called for an inquiry.
'Powers and resources'
IPCC chief executive Jane Furniss said: "The IPCC is intending to carry out a review of its work in cases where Article 2 of the European Convention on Human Rights is engaged.
"These are case where a death has occurred either during or after contact with the police. The review will look at the IPCC's powers, resources and approach to dealing with these cases."
Ms Furniss said the review would aim to identify any changes needed and improve public confidence, and would lead to recommendations in a report.
File on 4 discovered that anyone who dies following restraint without being formally arrested is excluded from death in custody figures.
The findings were revealed in a joint investigation by the programme and the Bureau of Investigative Journalism.
They used Freedom of Information requests to ask the IPCC to reveal the names of individual cases detailed in its statistics.
'Highly sensitive'
The names relate to 86 people who died in police custody between 1998-99 and 2008-09 following the use of restraint.
Of these, 16 deaths were categorised by the IPCC as being directly "restraint-related".
Families of those who had died expressed disbelief that their loved ones had been excluded from death in custody figures.
Mr Vaz said: "This is a highly sensitive area which deals with one of those parts of public policy that needs to be looked at very carefully. What we will have to do is have a proper, thorough inquiry into this matter."
The IPCC disclosed it has another list of deaths following police contact - those who had not been arrested or detained.
However, the IPCC does not know how many of those were restraint-related deaths and is considering a new study of these cases.
High-profile case
The investigation into the official figures involved months spent cross-referencing the names on the IPCC list and other cases in the public domain.
The IPCC's definitive list of 16 deaths in police custody excludes one of this country's most high-profile cases.
Roger Sylvester died in 1999 after being restrained by eight police officers in hospital.
He had been found naked and behaving strangely outside his home in Tottenham, north London.
An inquest ruled in 2003 that he was unlawfully killed, but this was quashed a year later by a High Court judge. No officers were charged.
But following the case, the Metropolitan Police reviewed and reorganised its restraint training.