Bristow Helicopters to take over search and rescue work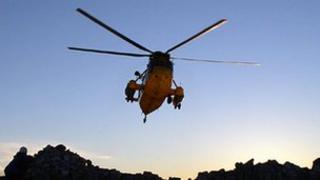 CHC Helicopters is to lose the search and rescue contract at bases at Sumburgh and Stornoway in Scotland, the BBC understands.
Bristow Helicopters is to take over the service in 2013, but only until 2017.
After 2017 the military role in search and rescue will cease and a new civilian contract involving ten bases across the UK will come into force.
An official announcement by the Department of Transport is due to be made next week.
The RAF and Royal Navy, who have for years provided search and rescue cover, are to give up the role in 2016.
Companies have also been invited to bid to run Maritime and Coastguard Agency helicopters in 2017.
A shortlist is being compiled and the winning bidder is expected to be announced early next year.
The final deals are expected to be signed in February 2013.
Ageing RAF and Royal Navy Sea King helicopters are scheduled to be retired in March 2016.
Companies are bidding for a contract to operate large helicopters capable of carrying at least eight casualties from Sumburgh, Stornoway, Culdrose, Leconfield and Valley.
Bids have also been sought to fly helicopters with capacity for at least four casualties from Lee-on-the-Solent, Chivenor, Prestwick, Lossiemouth and Wattisham.
The contracts can be bid for separately, or combined in a single bid.