British cruise ship passenger 'seen falling overboard'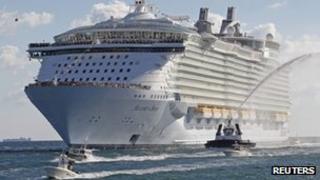 A British cruise ship passenger has fallen overboard in waters near Mexico, the owner of the vessel has said.
Royal Caribbean International cruise line said the unnamed 30-year-old man had been captured on closed-circuit camera footage falling over railings.
It said another passenger on the Allure of the Seas, which is on a seven-night cruise from the US to Mexico, saw him fall and raised the alarm.
A spokeswoman for the Foreign Office said it was looking into the reports.
The guest saw the man fall at 07:10 local time (12:10 GMT) on Friday, the Royal Caribbean said.
'World's largest'
In a statement it added: "The ship made multiple public announcements and began a complete search of the ship, in efforts to locate the guest.
"When the guest did not respond to the pages and was not found onboard, the captain alerted the local authorities of the situation.
"A review of the ship's closed-circuit camera footage observed the 30-year-old British male guest going over the balcony railing."
The Mexican navy and coastguard are assisting in the search, the company said.
"Our care team is providing support to the guest's family and our thoughts and prayers are with them," it added.
The cruise ship, which can carry 5,400 passengers, is believed to be the world's largest.
It has a park on board containing more than 12,000 live plants, a theatre, a casino and a nightclub.
The ship left Fort Lauderdale in Florida on Sunday for a cruise to Cozumel in Mexico.
After the man was reported missing, the coastguard later released the ship to continue its journey and it reached Cozumel about an hour later.
Royal Caribbean said the liner had been chartered by Atlantis Events, a company which organises holidays for the gay and lesbian community.