Newspaper review: Huhne's departure discussed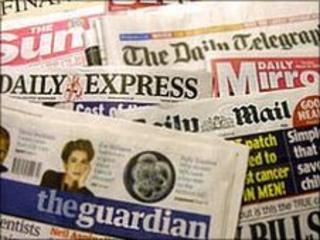 Chris Huhne's resignation from cabinet is on most front pages, making the lead for the Telegraph, Guardian and Mail.
The Mail's headline is "Huhne pays for his infidelity".
For the Guardian, it is: "The acrimonious divorce that ended a ministerial career".
It describes Friday's events as a day of personal turmoil and suspense for him and his former wife, Vicky Pryce.
The Telegraph says Mr Huhne now faces the prospect of a court showdown with his ex-wife.
A number of papers express regret at his departure.
For the Times, Chris Huhne proved to be an adept minister who commanded the respect of his department and government colleagues.
The Independent says he was respected in the business world, and in the world of environmental campaigning, as someone who got things done.
John Terry's departure as England football captain is also covered, with the Mirror saying he could not remain captain of a team with black players when charged with a racial offence.
The Sun says the captain is an ambassador for English football, and it would be wrong to have a man facing a sensitive racism charge in that job.
However, the Mail believes the FA should have resisted what it calls the lords of Twitter.
Nuclear concerns
The Independent says the US believes Israel could be as little as two months from attacking Iran as concerns mount about Tehran's nuclear weapon plans.
The Times says a decision looks more likely in late summer or early autumn.
The Guardian reports that a London council is drawing up plans to convert an empty Woolworths store into a classroom for primary school children.
It is part of emergency measures in England to cope with a dramatic increase in the number of pupils.
According to the Mail only 9% of souvenirs meant to showcase the best of British workmanship to mark the London Olympic are actually made here.
Millions of pounds of contracts for memorabilia went abroad, it says.