Newspaper review: Papers discuss Redknapp England role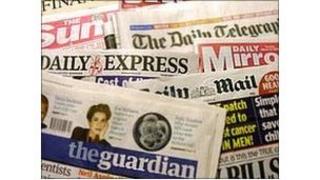 Speculation abounds in the papers that Harry Redknapp is poised to become the next England football coach.
The Daily Mirror says he is expecting a job offer in days, adding that a divided squad must be united.
"The public wants him. The players want him," says the Sun. "Bookies back him - and how often do they get it wrong?"
But the Daily Telegraph's Jim White suggests England coaches "are destined to fail", because performance can never meet the country's expectations.
Boardroom equality
There are lukewarm responses to ideas emerging from David Cameron's attendance at a summit of Nordic and Baltic states in Sweden.
"Go back to work and downsize," is how the Telegraph summarises a warning to elderly people, after the summit considered the challenges of ageing populations.
The Daily Mail is appalled at the idea of quotas of women business executives.
But the Independent takes a different line, asserting that boardroom equality will not happen on its own.
News offering hope to pregnant women with cancer is widely reported, after research found chemotherapy did not harm foetuses.
"Women diagnosed with cancer during pregnancy no longer need to choose between their own life and that of their baby," says the Independent.
'Sexy accent'
The Daily Express reports on a possible breakthrough in the treatment of Alzheimer's disease.
An anti-cancer drug has been found to reverse the disease's effects in mice.
The Daily Mirror tells the story of Birmingham woman Debie Royston, who "emerged from a gruelling bout of the flu - with a French accent".
She is one of 60 people worldwide who suffer from foreign accent syndrome.
She was upset when someone told her "my accent now sounds sexy and it would be a shame if my Brummie one comes back".
A washing machine tops the shopping list for £45m Euromillions winners, reports the Express, after their old one broke down on the day of the draw.