Newspaper review: Andrew Lansley NHS Bill dominates headlines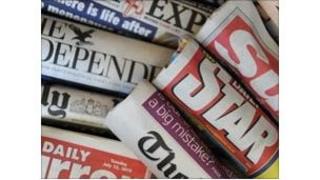 Controversy regarding the government's NHS bill hits the headlines in several newspapers amid reports that three Tory cabinet ministers have concerns.
The Times says the bill is giving David Cameron a political migraine and poses the question, what should he do now?
Its political editor, Roland Watson, says dropping the bill would be "too far to fall" for the Conservatives.
But the Daily Mirror says if he cannot convince his colleagues to back the plans Mr Cameron should ditch the bill.
A High Court ruling outlawing prayers at formal council meetings in England and Wales is the Daily Mail's lead.
The paper concludes that Christianity is "under attack".
The Guardian says Greece faces an acute political crisis as it prepares to decide whether it can stay in the Euro.
Its economics editor, Larry Elliott, says the decision by eurozone finance ministers to demand more concessions from Athens suggests the Germans want the Greeks out of the euro.
David Cameron has agreed with his senior ministers to call a truce in the controversy over bank bonuses, according to the Financial Times.
The paper says the move is part of an attempt to repair fractured relations with the City and draw a line under weeks of public acrimony.
The Daily Telegraph reports an idea that wealthy savers should be stripped of higher-rate tax relief on pensions.
The idea was mooted by Liberal Democrat Danny Alexander, the paper says.
The freezing conditions in much of England and Wales are widely reported.
The Daily Express, whose front page story is about the weather, says more snow and bitterly cold temperatures are on the way, threatening travel chaos for the half term holiday.
Meanwhile, the Independent continues its campaign to curb energy prices.
It says millions of households struggling in fuel poverty will be forced to decide whether they can afford to turn on their heating.