Newspaper review: Abu Qatada freed amid deportation row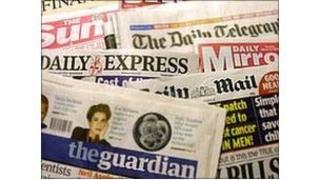 The first pictures of Abu Qatada - the man widely accused of being a hate preacher - since his release from jail on Monday night feature on almost all of the front pages.
The Daily Telegraph has a shot of him snatched through the window of the vehicle taking him away from Long Lartin prison in Worcestershire.
The Coalition is "too timid" to deport him, according to the Sun, which carries the same photograph.
The Daily Mail quotes his 70-year-old mother saying Britain is wrong to keep her son, and his family want him home.
Media wars
The Guardian reports that the arrests of senior Sun journalists at the weekend have sparked a feud at Rupert Murdoch's News Corporation.
"Civil war in Murdoch's empire", is how the Daily Telegraph reports it.
The Independent tells us the company has pleaded with Scotland Yard to be less aggressive in its operations against journalists.
And the Times reveals that News Corporation has disclosed the names of some confidential sources to police because there is evidence that they may have been paid for information.
'Songbird'
A delighted looking Adele is cradling her six Grammy awards on the front page of the Daily Express, which hails her as "our best British songbird".
The Sun calls it a victory for an old fashioned concept - talent, while the Times says the star has "the most arresting and valuable voice in pop".
But the Guardian thinks it is doubtful many in the audience at the ceremony in Los Angeles could decipher her accent.
It says her spoken voice "remains robustly Tottenham".
Honesty in love
The only survivor of five British men abducted in Iraq in 2007 gives an interview to the Independent.
Peter Moore says the kidnappers were members of the Iraqi security services - not militia fighters disguised as policemen, as the UK government stated.
Finally, on a day to celebrate love, the Telegraph highlights US research suggesting older people who use dating websites tend to be more honest.
"Silver surfers" have learned life is too short for dating games, it says.