Stephen Lawrence murder: Perjury allegations considered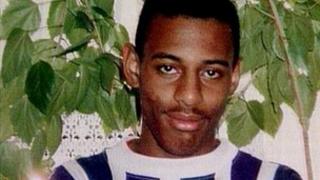 Allegations of perjury in the Stephen Lawrence trial are being considered by the Crown Prosecution Service.
Police presented a file to the CPS last week and discussions about whether to bring charges for perverting the course of justice are continuing.
The CPS said it was part of a "pre-investigation" into the allegations.
Gary Dobson, 36, and David Norris, 35, were convicted in January of murdering Mr Lawrence in 1993. They are seeking to appeal against their convictions.
A CPS spokesman said: "We have received initial papers from the police in relation to potential perjury allegations during the Lawrence trial.
"It would be fair to describe this as 'pre-investigation' of these specific matters and we will continue to talk to police about this issue.
"This is not a file of evidence for our consideration of charges. It is part of ongoing liaison in relation to all issues in this case."
Dobson and Norris were found guilty by an Old Bailey jury of the racist murder of 18-year-old Mr Lawrence.
The black teenager was attacked by a group of white youths and stabbed to death near a bus stop in Eltham, south-east London, in April 1993.
Dobson had claimed he was at his parents' home at the time of the killing, while Norris could not recall where he had been.
Dobson was ordered to serve a minimum of 15 years and two months, and Norris 14 years and three months.
Dobson and Norris have been told their sentences will not be referred to the Court of Appeal for a decision on whether they are unduly lenient.
Attorney General Dominic Grieve said the minimum terms were "within the appropriate range of sentences".