Airman fatally shot in Afghanistan named by MoD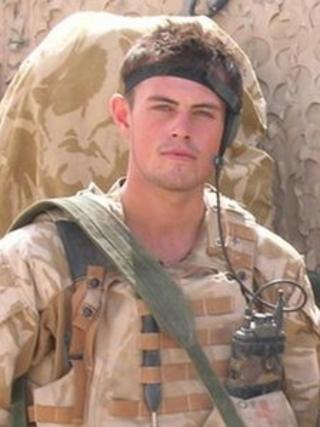 A serviceman fatally shot on patrol in Afghanistan has been named as 21-year-old Senior Aircraftman Ryan Tomlin.
SAC Tomlin, of 2 Squadron, Royal Air Force Regiment, was shot during an insurgent attack in Nad Ali district, southern Helmand province, on Monday.
He was airlifted to the field hospital at Camp Bastion, where he later died.
His family, from Hemel Hempstead, in Hertfordshire, said he had "loved and lived life to the full", and would "be forever young and never forgotten".
He leaves behind his mother and father, Diane and Kevin, and a sister, Michelle.
"Our true hero and shining star," the family statement said.
"He gave his life at a very young age doing the job he loved. Ryan will be sorely missed by his family and friends and everyone who loved him.
"We will remember his cheeky grin and great sense of humour."
Wing Cdr Jason Sutton said that SAC Tomlin's death had "deprived the Royal Air Force Regiment of one of its very best".
"When the task was hard, he would immediately rise to the challenge," he said.
"When those around him were weary, he was the one to lift their spirits, and when the enemy threatened, he was the first to be ready to fight."
'Exceptional marksman'
SAC Tomlin joined the Royal Air Force in October 2008, and had completed his first tour in Afghanistan in 2010. He deployed on his second tour last October.
He was praised as "one of the best gunners in 2 Squadron" by Flt Lt David Martin, who said he had "proved to be an exceptional marksman".
"He was depended upon time and again to provide vital surveillance and reconnaissance and long-range fire support to his colleagues when needed," said Flt Lt Martin.
"He loved his job, he was a pleasure to command and I am honoured to have known him."
Cpl Thomas Vardy said he was "certain" SAC Tomlin "would have had a very successful career", and that his loved ones "should be extremely proud of him".
"I know it's not fair to have favourites, but I took an instant liking to Ryan," he said. "He was young, enthusiastic, funny and had knowledge beyond his years."
"Ryan Tomlin always had morale to give out. You would never find him in a bad mood and he would never put you in one," said SAC Robert Zuccolini.
"Ryan was always someone who could get you through the tough times."
British military deaths in Afghanistan since 2001 now stand at 398.
Some 500 of about 9,500 British servicemen and women in Afghanistan are due to be brought home in 2012 and Prime Minister David Cameron has indicated that more will leave in 2013.
He has said he wants British forces to end combat operations in the country by 2014.