Newspaper review: Speculation over Greek talks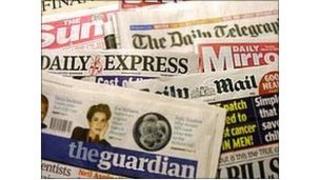 A meeting of Eurozone finance ministers which was to have discussed the Greek debt crisis has been called off, a number of Wednesday's papers report.
The Times says Greece's "lifeline" is now "in grave doubt".
The Financial Times speaks of a "widening split" over whether Athens should be trusted with another bailout.
And the Independent notes that Beijing left Europe's top officials empty-handed when it refused to pledge more bailout funds at a China-EU summit.
The Guardian reports that internal NHS documents warn that government health reforms run a high risk of reducing levels of safety and patient care.
There are also fears of increasing costs and failing to deliver improvements in management.
The Daily Mirror is among the papers to cover the story of a rector found stabbed to death in his vicarage.
It says a quiet town was "united in shock", adding that parishioners were struggling to comprehend the events.
"Cheap booze to be outlawed," is the Daily Mail's front page story.
The paper says Prime Minister David Cameron is to "declare war" on "the scourge of cheap alcohol" as part of a raft of measures aimed at cracking down on binge drinking.
"Attack on Britain's 'boozing scandal'" is also the Daily Telegraph's lead.
Along with the Sun, the paper says he will also use his visit to a hospital to defend the government's planned changes to the NHS in England.
Ahead of the 30th anniversary of the Falklands war, the Times says tensions with Argentina are to be heightened by a visit to the islands next month by MPs on the Defence Select Committee.
Meanwhile, wayward Manchester City striker Carlos Tevez must "grovel" to manager Roberto Mancini if he wants a future there, the Daily Star reports.
It says he flew back to the UK from Argentina in a bid to win back his place in the team.
Freedom of information requests reveal that £400,000 has been spent renting 12 fig trees for the main offices used by MPs - Portcullis House in Westminster.
The Sun is among a number of papers to explain that the greenery was imported from Florida in 2001.