London 2012: Peer walks 3,000 miles for Olympic Truce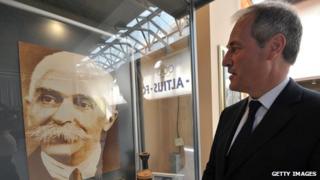 The year 2012 is an extraordinary one for the UK - and one man has just completed an extraordinary journey for peace.
Conservative peer Michael Bates has walked 3,000 miles to promote awareness of the Olympic Truce.
Back on UK soil having navigated 13 countries and meeting prime ministers, presidents and even the Pope, the former Teesside MP said the trip went well.
"It probably went better than I expected," he told the BBC. "I just got up each day, did between 15 and 20 miles a day and hoped to find some accommodation on the way."
The peer set off from the Greek city of Olympia last June, shortly after his 50th birthday, and arrived in London after 10 months to jump straight back to work.
He said one of his trek's biggest challenges was that people had not heard of the Truce.
So what is it? The 9th Century agreement commits countries to observe a truce from a week before the opening of each Games to a week after the closing ceremony.
It broke the constant cycle of war between Greek city states, establishing a window of peace to make the Games possible.
Revived through United Nations resolutions in the early 1990s as a symbolic gesture, it has never actually worked. The conflict between Russia and Georgia erupted just before the Beijing Olympics in 2008.
Even so, as Lord Bates trekked across Europe, the UK persuaded all 193 UN member states - including Iran, Israel and Syria - to sign up to observe the truce during London 2012.
"Being on my own had a great advantage that it was very quick to get started," said Lord Bates.
"The embassies and consulates were extremely helpful. They did a great job - arranging for me to visit schools, talk to the media and speak to political leaders and Olympians.
"I met the Olympic Committees in all countries I went to and in some cases prime ministers and presidents."
Very confident
Lord Bates, who lives in Durham, said he had to remind many officials about what the Truce is.
"When you point out it's something they have put their name to as part of the UN - they respond positively and say: 'We must do something about it,'" he said.
"I'm very confident that the British Government will take the Truce seriously in the modern era. There is the momentum to make sure it's going to be implemented.
"From the meetings and encounters I have had, it has given me confidence that something will happen."
The journey was also a very personal one for Lord Bates, who admitted he felt quite alone at times.
"For most of the time I was on my own," he said. "That was pretty lonely, especially when you get lost and can't find anywhere to sleep or get water in 40 degree temperatures.
"I had a mobile phone, Skype and computer so I was in contact with home and that was great, but it was a lonely experience."
Personal achievement
Lord Bates said he does not know if he has yet achieved anything; he will have to wait until the end of London 2012 for that.
"All I know is that for a year I talked about this in Parliament and initiated debate and nothing changed," he said.
"Then I set out on my walk and after three months lots of things changed. People started taking it seriously.
"People think the only way to get the message across is to be a parliamentarian but sometimes just getting out there and doing it can make people sit up and take notice."
As well as highlighting the campaign, Lord Bates said it was a personal achievement to complete the walk.
"Probably a few years ago I would have been the type of guy to get a taxi to the Underground station. It's incredible what we are capable of when we set out to do it.
"I was pretty surprised at being able to walk for 30 miles some days with a 40lb rucksack. I'm 50 and a grandfather, I couldn't have done this when I was 20."
Overcoming adversity
It was a tough physical challenge for Lord Bates, especially as he broke his arm travelling across the Alps.
"I was in a hospital in Switzerland for two days. That was the most expensive two nights' accommodation," he laughed.
"I was supposed to rest it but I continued with the walk. I planted myself in a base and for the first couple of weeks, walked to the next train station and then got the train back to my bag.
"I managed to get through and managed to keep walking."
Despite his injury and time spent away from his family, he said he wanted to get straight back into the swing of things.
He arrived at the Olympic Stadium in Stratford on 15 February at 13:30 GMT, where he was met by former Olympian Jonathan Edwards, the Speaker of the House of Lords Baroness D'Souza and five times Paralympian Baroness Tanni Grey-Thompson. That evening he was back in the House of Lords.
But while he is busy recuperating, he has had a chance to reflect on his challenge.
"I had the opportunity to be received by the Pope. I met him in St Peter's Square," he recalled.
"It was an incredible opportunity and was made possible by the British Embassy. The embassies have been superb along the way. They got behind it all and increased the impact vastly.
"The kindness that has been shown to me has been extraordinary and heart-warming. Lots of people have looked after and taken care of me.
"It's been an incredible journey."
Sitting with a bar of chocolate in one hand and a cup of tea in the other Lord Bates said it was time for a rest, and you get the sense he needs it.