Newspaper review: Teacher tributes after coach crash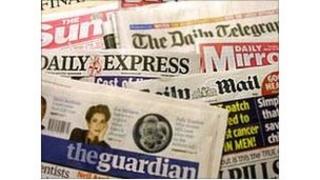 Coverage of the crash in France of a coach carrying a British school party includes many tributes to the teacher who died, Peter Rippington.
One parenttells the Independent that her son has been left "heartbroken"- "that's how loved he was".
On a bouquet outside the Worcestershire school,reports the Guardian, the message read:"You were a one of a kind teacher and can never be replaced."
Photos of pupils in tears as they hear the news appear in the Daily Telegraph.
'Raw deal'
Reporting that energy firm bosses' pay hasdoubled in a decade, the Daily Mirrorwants a watchdog to represent consumers and get "hugely profitable suppliers to justify price increases".
"The decent hard-working majority ... feel they are getting a raw deal."
TheDaily Telegraph leads on news of a "clawback"by Lloyds TSB of more than £1m in bonuses from five directors.
The penalty for mis-selling of Payment Protection Insurance could prompt calls for similar moves at other lenders.
Fresh air
A "City guru" tells theSun that the return of the £68bnof taxpayers' money that bailed out Royal Bank of Scotland and Lloyds could take 10 years.
"We doubt bank managers would be so patient if customers took as long to clear their debts," the paper comments.
The Telegraph reports a claim that hospitals could be too sterile, lacking "good bacteria" to fight harmful ones.
Advice to open windows and let in fresh air mirrors that offered by Florence Nightingale150 years ago, the paper notes.
Punch-up
Most papers carry a picture of Miranda Hart's character getting married in the final episode of Call the Midwife.
The BBC show's "huge success is surely because it harks back to a better, safer Britain, onewe all wish we could return to," suggests the Daily Express.
"Bout of order," declares the Mirror of the brawl at a press conference between boxers Dereck Chisora and David Haye.
The word "shameful" is used widely, and several newspapers suggest the British fighters are facing life bans.