Barrow says demand to freeze council tax 'doesn't wash'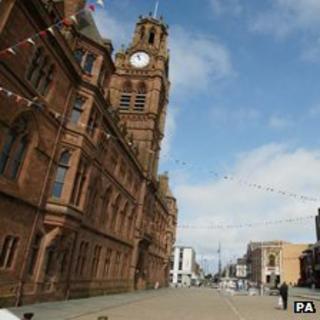 The government is offering money from a £675m fund to local authorities in England who promise to freeze council tax this year. But some councils like Barrow are defying ministers and has pledged to raise the tax. BBC local government correspondent Mike Sergeant visited the town to find out why.
With an icy wind gusting in from Morecambe Bay, Barrow-in-Furness can feel like it is perched on the edge of the world.
This small industrial town on a peninsula jutting out from the Lake District has a population of 60,000 and a proud shipbuilding history.
In recent decades, the UK's nuclear submarine fleet (including those carrying Trident nuclear missiles) have been built here, boosting the local economy.
But the town still faces enormous challenges. Work in the dockyards depends largely on big orders for new submarines, and in the town retailers report subdued business. Local companies say it can be hard to attract alternative investment because of Barrow's location: far from the motorway and the big cities.
The council says it was handed one of the toughest council tax settlements in England. Barrow's central government grant fell by 8.9% last year, and is falling again by 8.9% this year - the maximum any local authority has had to deal with.
Already some hard decisions have been taken on jobs and services. There's been a wave of voluntary redundancies. The future of some local arts organisations - like Barracudas Carnival Artists - is uncertain after substantial funding cuts.
Rebel councils
Now the elected representatives are trying to justify an increase in council tax of 3.49% this April.
The rise will see the council tax bill for a band B and D property, for example, rise from £1,557 to £1,611 this year
Barrow is one of more than 25 rebel councils who are planning to ignore the offer of money from central government to freeze bills.
Other councils joining the revolt include Labour authorities like Darlington, Nottingham and Middlesbrough. To the fury of ministers some Conservative councils like Surrey, Chelmsford and Peterborough have also announced plans for a hike.
But a few councils - like Hammersmith and Fulham, South Oxfordshire and Stratford-on-Avon - are even managing to cut council tax this year. Ministers think others could do so too, if they made more efficient use of their assets, and shared resources with neighbouring authorities.
But Dave Pidduck, the Labour leader of Barrow council, says he has no option but to hike council tax. His justification is that the money from central government might not be renewed next year. Mr Pidduck says that if council tax doesn't go up this year, there's a danger of an even bigger rise (of 7% or more) next year.
It's an argument that ministers in London utterly reject. They say the £675m offered to English councils this year in return for a freeze is supposed to help local authorities get their cost-base down, and avoid the need for future increases.
The £675m is the equivalent of 2.5% of council spending. The issue for councils though, is not so much whether the money is enough this year, but whether it will be repeated.
'Running for cover'
There are no guarantees from the Communities Secretary Eric Pickles. He's highly critical of councils planning an increase. "They are treating the electorate with contempt," he said. "They should have the courage to put their hikes to the vote and justify their tax rises. Instead they're running for cover."
Mr Pidduck is unrepentant, and hurls the criticism straight back at Westminster. "Eric Pickles said we had a moral duty (to freeze council tax) - this from someone who's taken a chainsaw to local government and the public sector. It doesn't wash," he says.
Mr Pidduck says the decision to raise taxes means important local services like rubbish collection, local theatre productions and crematorium services can be maintained.
So, for now, there's a reprieve for the threatened Dock Museum. There's been much discussion in recent months about reducing its opening hours. The museum is funded by the council, and is the town's main visitor attraction.
Museum curator Sabine Skae says: "We get about 100,000 visitors a year which is really very good. We have a lot of locals come time and time again, and a lot of visitors from the lakes in summer. It's free admission - that's a very important policy of the local council."
On the quay side nearby, local fishermen are checking their nets in the biting cold. The council tax increase hasn't gone down well at all.
One fisherman (who will not give his name) says: "We're not happy. The government says we should freeze [the tax] two years on the trot and Barrow Borough Council is putting it up. People don't have the money. There's just no money."
In the town centre market, there is more hostility to the council tax increase.
Hank Hancock, a market trader says: "Business is very poor. We're suffering badly. The council can take a lot of the blame. I think they should knock the town hall down. It's just a waste of money. I don't see what they do at all".
Some locals regard the street wardens in Barrow as one of the successes of recent years. They patrol the alleys looking for graffiti and reporting incidents of fly-tipping.
Their funding was initially provided by central government as part of a pilot. But the council didn't want to lose the service, and took on the cost of the scheme. Now, though, despite the council tax increase, their future is once again in doubt.
Jack Richardson, the leader of the Conservative opposition in Barrow, has questioned the necessity of the council tax hike, and many other policies of the Labour council.
He says an increase in bills this year is absurd at a time when the council is sitting on large cash reserves. "I think it's totally unnecessary - the reserves total £9.3m. We're going to have a budget surplus in 2012/ 2013. I see no reason at all why the rates should be increased."
But Mr Pidduck says he's following a prudent approach to the council's finances, and won't take a gamble on an uncertain future.
"I live here. I was born here, and if the gods don't have any other plans I will die here. We know exactly what the impact of these decisions will be on our people."