Prince Charles hosts Premier League footballers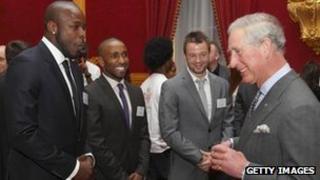 The Prince of Wales has admitted he was far from a success as a schoolboy football captain at an event for his Prince's Trust Football Initiative.
Prince Charles mingled with Premier League stars at Clarence House to mark 15 years of the scheme that aims to get disadvantaged young people into work.
Queen's Park Rangers defender Danny Shittu said the prince told him he had never won a game as captain at school.
Bolton's Kevin Davies and Tottenham's Jermain Defoe were also at the event.
After speaking with the prince, Shittu said: "As we say in the football world, he's got banter.
"He said he used to captain his school side and played at centre half, but said they never won a game while he was captain.
"To hear something like that from him is great - it was a pleasure to meet him."
It has been reported that Charles is a fan of Championship club Burnley, but Davies, of their Lancashire rivals Bolton Wanderers, failed to get confirmation of that from the royal.
Davies said: "I asked him if it was true he's a Burnley fan, but he said 'I couldn't tell you'.
"We then just talked about football in general. I've been involved in the initiative for six seasons now - even if you just manage to help one kid, it's worth your time."
Defoe said: "As footballers we've been lucky in life, we're blessed. There are a lot of unemployed kids out there, and I just want to help them."
The Prince's Trust Football Initiative has helped more than 20,000 young people and involved 65 Premier League and Football League clubs.
'Inspire and encourage'
It sees people aged between 16 and 25 meet footballers face-to-face as part of 12-week job programmes.
More than three-quarters of those who have taken part in the project have gone onto work, education or training.
Prince Charles said: "I always felt somehow that if you can work together with the football world, there is so much you can do to bring in young people who might not otherwise get involved.
"Half the problem is getting the message across that something like the Prince's Trust actually exists and that there are all sorts of worthwhile ways of people being able to escape from difficult and challenging circumstances."
The prince said the scheme helped to raise the self-confidence and self-esteem of young people, giving them a better chance of finding work.
He added: "I am hugely grateful to all those ambassadors for the trust from the football world who have given up their precious time to help inspire and encourage others."
At the event, the prince was presented with a Blackburn Rovers shirt by the club's chief executive Paul Hunt - the Prince's Trust emblem has been sported on the players' shirts this season.
The Premier League and the Professional Footballers' Association have donated £7m between them to the initiative since 1997.