London 2012: Olympic Stadium turf will be removed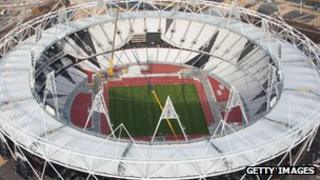 The turf inside London's 2012 Olympic Stadium will be ripped up and replaced after the Games, as part of an up to £75m redevelopment of the site.
The £500m stadium does not have the undersoil heating football clubs need under Premier League rules or required in a 60,000 seat multi-use venue.
It will be owned and redeveloped by the Olympic Park Legacy Company after the Olympic and Paralympic Games.
The OPLC has yet to secure a tenant but has received 16 bids for the venue.
Championship side West Ham are thought to be among the companies who have expressed an interest in using it after the Games and have until 23 March to submit formal bids.
A deal which would have seen the football club take over the venue collapsed in October 2011 after challenges from rival clubs Leyton Orient and Tottenham Hotspur and an anonymous complaint to the European Commission.
A new tender process opened in December. It will see the stadium remain in public ownership but tenanted.
The winner, appointed by the OPLC, will be announced in May.
The stadium is due to reopen in 2014 once work to reduce its capacity from 80,000 seats and make other changes is completed.
The planned capacity of the venue is 60,000, up from the 25,000 originally proposed for a site that would focus on athletics post-Games. That would not have had undersoil heating under the grassed area, the OPLC said.
The cost of replacing the pitch would be £2m, according to reports from Associated Press.
The £35m cost to the OPLC of redeveloping the stadium is part of its £292m budget for work across the eight permanent venues remaining on the Olympic Park after the Games.
Newham Council has also offered up to £40m towards the cost of transforming the stadium to its "legacy" form.
London is due to host the 2017 World Athletics Championships and the running track will stay in place under the plans for a multi-use venue.
Six of the eight permanent venues have operators set up for post-Games use - the athletes' village, the Velodrome, the Aquatics Centre, the Copper Box (handball), Eton Manor (hockey and tennis centre) and the ArcelorMittal Orbit tower.
The futures of the press and broadcast centre and the stadium have yet to be decided, although the stadium will incorporate being the new national centre for athletics, taking over from facilities at Crystal Palace.