Cherie Blair starts hacking legal case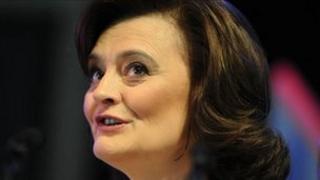 Cherie Blair has started legal proceedings over phone hacking, her solicitor has confirmed.
The wife of former Prime Minister Tony Blair, herself a prominent barrister, launched a claim on Tuesday.
Mrs Blair's solicitor Graham Atkins confirmed a claim had been made "in relation to the unlawful interception of her voicemails".
She is thought to be suing News Group Newspapers, but a News International spokeswoman declined to comment.
The now-defunct News of the World (NoW) was published by News Group, part of News International, which is a subsidiary of Rupert Murdoch's News Corporation.
Various public figures have settled legal claims over hacking with News Group.
Mrs Blair left Downing Street when Mr Blair resigned as prime minister in 2007.
She still works as a barrister, is a campaigner for prison reform and makes high-profile appearances - most recently at the first meeting of the International Council on Women's Business Leadership in Washington in January, alongside US Secretary of State Hillary Clinton.
In November, Mr Blair's former press secretary Alastair Campbell told the Leveson Inquiry into media ethics he had suspected Mrs Blair's friend Carole Caplin of tipping off newspapers about her.
He told the inquiry: "During various periods of the time that we were in government, we were very, very concerned about how many stories about Cherie and Carole Caplin were getting out to different parts of the media.
"I had no idea how they were getting out. In relation to not just Carole, and not just Cherie, but all of us who were involved in the government at that time, all sorts of stuff got out.
"Some of it may have got out because people who were within the government were putting it out there. Perhaps. That does happen.
"But equally there were all sorts of stories where you would just sit there scratching your head thinking, 'How the hell did that get out?'"
Since the phone-hacking allegations had emerged, Mr Campbell said he had changed his mind.
"I did at times directly accuse Carole Caplin of tipping off newspapers about what she was up to. I've since apologised to her for that because I now realise I was completely wrong," he said.
BBC home affairs correspondent Danny Shaw said the legal move by Mrs Blair may have been influenced by Mr Campbell's comments.
Our correspondent said Mr Campbell's evidence provided an insight into concerns that newspapers always seemed to know what her engagements were and that he said he had never been able to ascertain how news of Mrs Blair's pregnancy in 1999 was obtained by the press.
Also in November, Ms Caplin said she had been told by police that her mobile phone messages were hacked by a private investigator working for the News of the World in 2002.
Both the Metropolitan Police and News International, which published the News of the World, declined to comment on Ms Caplin's statement.