Newspaper review: Tributes to killed Syria reporter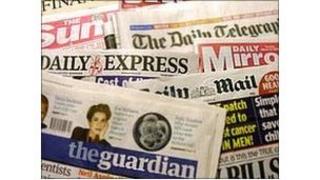 Marie Colvin's death is reported on many of the front pages and is the lead for theTimes, with the headline "The price of truth".
The Sunday Times reporter was killed in shelling by Syrian government forces.
TheGuardian says she had a knack of getting to places where other journalists had not beenand staying long after they had gone.
For the Sun, she was a legend.In the Independent's words, she was the heroic face of journalism.
Pointless tasks
There is continuing debate about the withdrawal of many High Street chains from a government work experience scheme offering voluntary placements.
TheDaily Mail regrets that the scheme is threatened by what it calls"frankly hysterical attacks from the left".
But theGuardian says it is easy to see how offensive it isto perform boring, menial or simply pointless tasks for major retailers without being paid.
This when the businesses make billions of pounds each year.
Failed state
TheDaily Mail says the Department of Health has admittedthe NHS is paying GPs in England for 2.5 million non-existent patients on their books.
These people have either moved house, left the country or been dead for up to 40 years.
TheDaily Express hits out at the promise of more British aid to Somaliaat a conference in London on Thursday.
The paper describes the African country as a breeding ground for terrorism and the world champion failed state.
Music industry
TheDaily Mailis upset at Adele for delivering a one-fingered salute when her acceptance speech was cut short at the Brit awards on Tuesday.
It describes it as childish behaviour and pure bad manners by the singer.
Why make a rude finger gesture at the people who run an industry which has made her internationally famous and worth £10m, it asks.
But theDaily Mirror saysbroadcaster ITV, the Brits organisers and the show's host have all apologised to her.