London 2012: Orchestras share stage for historic concert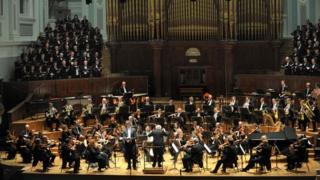 The Ulster Orchestra and the RTÉ Concert Orchestra are to perform on stage together for the first time this weekend as part of the BBC's Music Nation event.
Musicians from north and south of the border will be led by Dutch conductor Jurjen Hempel as they play at the Belfast Waterfront on Sunday.
Music Nation is a UK-wide programme of concerts, workshops and performances on 3 and 4 March marking the beginning of large-scale events counting down to London Festival 2012 - part of the Cultural Olympiad.
The Ulster Orchestra's Principal Trumpet number two, Patrick McCarthy, explained why the day would be one to remember.
"It's a measure of the progress of 'normalisation' in Northern Ireland since the Good Friday Agreement, that this BBC Music Nation event, will happen with the attention firmly on the music - and without the attachment of any heavy-handed symbolism.
I first came to Belfast in 1996 when our venue for this event, the Belfast Waterfront, was still being built.
Armoured police and army Land Rovers rumbled up and down Royal Avenue, Belfast's main shopping thoroughfare, and the city felt neglected and uneasy.
The Waterfront became a symbol of the new optimism in the late 1990s as the peace process gathered momentum and the promise of those times is now realised in a rejuvenated city and a thriving cultural scene.
Orchestral musicians are often rather unsentimental about 'event' concerts, but no one can deny that 4 March will be a very unusual and potentially exciting day at work.
Promise fulfilled
Although many players on stage will have freelanced with the 'other' orchestra at some point, and will have played or even studied together before (RTÉ's principal trumpet and I were postgraduate contemporaries in Birmingham), putting two professional orchestras together on the same stage is extremely rare.
One 'super orchestra' of 100 players is not without its logistical problems of course; issues of who sits where and next to whom, who gets the nice solo and who plays the supporting role have all had to be ironed out in advance.
The formula that has been settled on sees our leader, Tamás Kocsis, sitting alongside that of the RTÉ's and section principal seats shared equally between the two orchestras.
In my section, the Ulster Orchestra's principal trumpet remains in his seat, but the principal trombone will be from Dublin.
The programme is one of great orchestral showpieces, built around Brian Irvine's new work Praise Aloud The Trees.
Brian is a former composer in residence at the Ulster Orchestra and so its members have plenty of experience of his idiosyncratic style.
We'll be expecting more of the rhythmic drive and spiky tunes which typify his other work for us, although the source material for this work, a Seamus Heaney translation of a medieval text, might bring something very different.
I am looking forward to this great celebration of orchestral music and of promise fulfilled."
RTE Concert Orchestra violinist Joanne Quigley said the event was a reminder of how music can bring people together.
"The coming together of the RTÉ Concert Orchestra and the Ulster Orchestra for this concert is a cultural event that has special resonance for me as an individual, as well as a musician.
As a classical musician born and bred in Northern Ireland and someone who like so many others chose to leave to study and build an international career, it will be a poignant moment for me to return to Belfast and get the chance to play in front of a 'home' audience in the wonderful Waterfront Hall.
The fact that this is the first event of its kind to bring together orchestras from Belfast and Dublin is significant.
It gives all of us who have the honour of being a part of it a chance to reflect on the pointlessness and pain of past divisions in this part of the world. But more importantly it reminds us of the potential of music to bring people together and gives us hope for the future.
Music has no interest in borders, but the reality of the conflict meant that distance developed between Ireland's two great cities.
It is hard to see how that distance could have failed to impact on the musical experience and expectations of both. Indeed, the fact that this concert is the first of its kind tells its own story.
Ireland is a small enough island, with a population of just 6.4 million people.
I am really hopeful that this event might kickstart a greater interaction between the classical music communities of North and South, to the mutual benefit of both.
It will be for others to judge the quality of our music, but knowing people in both orchestras I'm confident that on Sunday 4 March, every musician participating in this concert will be giving it their very best and I would be confident that the audience will not only get to be part of an important cultural event, they'll get to enjoy a really beautiful concert."
The concert will be broadcast live from Belfast's Waterfront Hall at 13:00 GMT, Sunday 4 March, on BBC Radio 3 and RTÉ Lyric FM.