Newspaper review: Papers reflect on St Paul's protest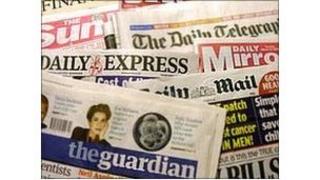 Giles Fraser, who resigned as Canon Chancellor of St Paul's over plans to evict protesters,offers his thoughts on the Occupy campaign in the Guardian.
"This was politics with passion and commitment," he writes.
The Guardian's leader writer says the protesters have had more success than they can ever have expected.
TheIndependent believes Occupy succeeded in providing a focusfor concern about "a world in which the rich grow ever richer".
Tents cleared
But Occupy had made its point and it was time for the protesters to go, the Independent adds.
TheDaily Express celebrates their departurewhich it hails as a victory for its Boot Them Out! campaign.
TheDaily Mail says the camp had "blighted" St Paul's Cathedraland the protest changed nothing.
Its reporter says that, as the tents were cleared away, "the stench of more than four months of human occupation filled the night air".
Question mark
The main story in theFinancial Timesis the decision by the Irish government to hold a referendum on the new fiscal pact agreed by eurozone leaders.
The paper says the vote "places a question mark over Ireland's membership of the euro".
TheDaily Mail is outraged that Chris Huhne has taken a severance payment, funded by taxpayers, of £17,000.
Mr Huhne was forced to resign as Energy Secretary because he faces criminal charges.
Football mystery
TheDaily Telegraphreports on a row about two prisoners who have been given jobs as binmen in Fylde, Lancashire, ahead of many law-abiding applicants.
The council says it is "proud" to have taken them on but business leaders question it in the economic climate.
TheDaily Mirror wonders whether former Chelsea manager Jose Mourinhomay be poised to return to the Premier League.
The paper says he has been spotted house-hunting in west London. Arsenal, Spurs or Chelsea asks the Mirror?