Newspaper review: Rivals react to Murdoch departure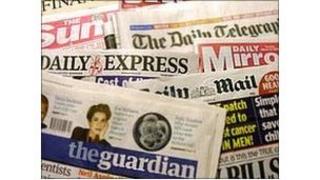 For rivals, the resignation of James Murdoch at News International raises the possibility that the Murdoch family could pull out of British newspapers.
To theDaily Mirror, James Murdoch was "mini Murdoch"and theDaily Express calls him the "favourite son".
James Murdoch is,in the opinion of the Daily Mail, the "biggest scalp"to be claimed by the phone-hacking scandal.
TheGuardian says it demonstrates how far power has tilted in the empire- away from newspapers, away from London.
TheIndependent notes that, for the first time since Rupert Murdoch bought the Sunin 1969, "there is no Murdoch in charge of News International".
Tax axe
According to the Sun, Ed Miliband has been having "secret talks" with Tony Blair "to discuss Labour's strategy."
The paper quotes an unnamed source who says they were "fruitful discussions".
The paper thinks the idea will "raise a few eyebrows", although it reckons Mr Blair is a good "role model" for the Labour leader.
More than 500 business leaders have signed a letter to the Daily Telegraphcalling on the chancellor to consider scrapping the 50p top rate of tax.
The paper agrees that the tax "stalls the engines of recovery" but doubts whether it will be repealed.
Diplomatic talks
TheIndependent wants to see action by the chancellorin another direction.
The paper argues that he should take low earners out of tax by raising the threshold, while imposing a higher tax on expensive homes.
Syrian tanks "rumbled into the shattered streets" of Homs while the talking went on among diplomats in the West, says theTimes.
The paper sees the suburb of Baba Amr as being "at the mercy" of President Assad's forces.
Robert Fisk of the Independent calls it "a chilling expression".
A campaigner against President Assad, writing in theGuardian, is confident that "at some point it will all come tumbling down".