Newspaper review: Papers focus on Syria crisis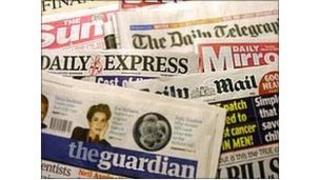 TheTimesis reporting that Russia is hardening its policy towards Syria.
Times editor James Harding was among a group of international journalists invited to dinner with Russian Prime Minister Vladimir Putin.
He reports that Mr Putin insisted his country had no special relationship with Syria's President Assad.
But Mr Putin also urged Western governments not to become "emotional" about the rising number of deaths and stories of human rights abuses.
Right to resist
TheGuardian leads with the fall of the Baba Amr district of Homsto Syrian government forces.
The paper says there are reports of government troops carrying out reprisal killings against civilians.
TheDaily Telegraph warns that Syria risks"an agonising descent into Bosnia-style blood-letting".
TheDaily Mirror says the government is right to resist callsfor military intervention. It says the Arab world must tell President Assad to go.
Petrol prices
TheIndependent shows Kristy Bamu, the 15-year-old murdered in London by a couple who believed he was a witch.
TheDaily Telegraph says police are warning that children are being abused and murderedas belief in witchcraft is rife in some African communities.
TheDaily Mail is predicting that petrol prices will reach an all-time highon Friday.
It says unleaded prices are already close to the record of 137.43 pence per litre, set last May.
Ripping yarn
TheIndependent says Business Secretary Vince Cable has been pleading with car manufacturer GMin the US not to close Vauxhall at Ellesmere Port, Cheshire.
The company has dismissed fears about the car-making plant as "speculation".
Finally, theSun has the story of a 71-year-old woman who was fined£75 for littering after a thread dropped off her glove in a supermarket car park.
Apparently the ticket handed to Valerie George was revoked by Blaenau Gwent Council after an investigation.