Iran election: UK Iranians' views
Voters in Iran have been taking part in elections for the country's parliament, the Majlis.
The poll was contested primarily by members of the Islamic republic's conservative establishment and was viewed as a battle between supporters of President Mahmoud Ahmadinejad and the Supreme Leader, Ayatollah Ali Khamenei.
Leaders of the opposition Green Movement, which came to the fore during 2009's disputed presidential election, remain under house arrest and advocated a boycott.
So what do UK-based Iranians make of the poll?
Firooz Behseresht, chairman, Iranian Scottish Association
Aged 32 when the 1979 Islamic revolution swept Iran, Mr Behseresht arrived in Britain five years later on a military assignment during the Iran-Iraq war and never left. Now a British citizen, his group supports 5,000 Iranians living in Scotland.
"The vast majority of Iranians here are refugees and asylum seekers. We don't recognise this as an election, it's an affront to democracy.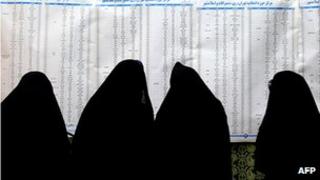 "Although the regime there is trying to portray a democratic face, it's a sham.
"So far as Iran's people are concerned, there is no prospect of change so long as the system is there with its constitution.
"My family is there and I'm constantly in contact thanks to the advances in technology. Their lives are difficult because of inflation and lack of food and commodities. They don't have any time to think about politics.
"Sanctions [imposed over Iran's nuclear programme] are hurting the people. They worry that Iran will get poorer and poorer and infrastructure will be destroyed.
"I understand that the West should try to protect its own interests, but there has to be a mutual interest between the nations."
Babak Emamian, British Iranian Business Association (BIBA)
As a first-year student, Mr Emamian took to the streets to overthrow the Shah in 1979. Feeling cheated as Ayatollah Ruhollah Khomeini's nationalisation programme reduced economic freedom, Mr Emamian left the country.
He now heads a group representing more than 2,500 Iranian business people.
Mr Emamian says despite Mahmoud Ahmadinejad's negative image in the West, the Iranian president has the backing of many of BIBA members, who feel he is opening up the economy.
"In any democracy you need economic freedom as well as political freedom. If the office of the president does well, it could have a good effect. He wants economic and social reform. He says without it, the regime will collapse.
"Iranians are very much encouraging us to work with them. If they manage to get social and economic reforms through, investment can flow into Iran.
"People in Iran are far ahead of the politicians. I don't know anyone who really supports the regime. In the short term I don't know but in the long term the future's bright."
Ali Kheradnejad, masters student at University of Warwick
Mr Kheradnejad, 33, says much of the Iranian electorate will boycott the election and send a message to the current regime that way.
"Most people don't want to vote and don't think that the government will bring about any changes," he said.
"The candidates are all chosen by the regime so they are not going to make any changes. They all have the same attitude and personality because the regime won't tolerate anything else.
"This regime is like a spoilt child that's not going to behave, so people are going to say goodbye to it."
He says he has spoken to friends in Iran, some of whom work in government departments.
"They have been told to vote but they say that they're not going to. But some people still feel pressured into voting.
"There is a now system of voting which requires you to bring your birth certificate and identity card - it was brought in four years ago. It enables the government to see who has voted and who hasn't.
"This has made people nervous and some are voting because they're afraid if they don't they'll get into trouble, like not being able to get into university.
"But it's not true. The government is just trying to make people afraid and make them feel they have to vote."