Scotland Yard reviewing hundreds of unsolved murders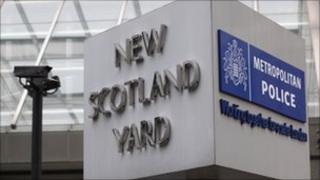 Scotland Yard is reviewing hundreds of unsolved murders in London, some dating back to the 1960s.
Detectives hope that advances in forensic science will help provide them with a breakthrough.
Operation Yetna involves systematically working through files of unsolved murders to see which would benefit from further investigation.
Its initial focus is on about 200 cases between 1980 and 1990 - before DNA testing became common.
Police are also looking at 37 unsolved murders of women and girls between 1967 and 1980. They say it may be possible to recover forensic evidence where there has been a sexual element to the killing.
While detectives have carried out many so-called "cold case" reviews of individual crimes before, this systematic approach is significantly different.
It involves a small team of officers led by Det Ch Supt Hamish Campbell who said they would "look at the cases where forensic evidence will win the day".
The operation has started by bringing all the records and files together and putting them on a new computer system, known as HOLMES 2.
It started some months ago, prompted by DCS Campbell's concern that older cases were being selected for review in an arbitrary way, for example by a concerned relative coming forward, rather than in a systematic or logical way.
He said that between 1980 and 2011 there had been more than 5,000 homicides, 600 of which were unsolved, which is about 20 per year.
BBC home affairs correspondent Danny Shaw said while the review was not prompted by the Stephen Lawrence case, he believed it had been given extra impetus by the outcome of the trial, which saw two men jailed in January for the fatal stabbing in south-east London in 1993.
DNA evidence recovered following a cold case review proved crucial in the case.