Charities 'could face cuts of up to £5.5bn'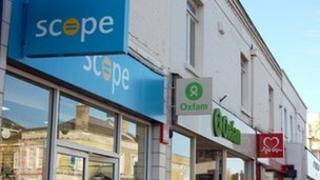 The charity sector is facing local and national government funding cuts of between £1bn and £5.5bn in the current financial year, a report suggests.
The leaked report, obtained by the Labour Party and compiled by an umbrella group said the situation had worsened since last March.
Gareth Thomas, the shadow civil society minister, said charities had taken a disproportionate hit in funding.
The Cabinet Office described the report as a misrepresentation.
The leaked report was compiled by the Association of Chief Executives of Voluntary Organisations (Acevo) which helped to run the £100m transition fund set up by the government to help charities facing financial difficulties.
The report claimed that, on average, the 1,725 organisations applying to the fund faced losing 45% of their total income as a result of the cuts.
It found applicants to the fund faced cuts of more than £520m in the current financial year, and estimated that the UK charity sector as a whole faced cuts of between £1bn and £5.5bn.
A Cabinet Office spokesman added the report was only based on applications to this one fund and not all voluntary organisations.
"Our analysis shows that some applicants over-stated their expected reductions and therefore we do not consider their figures to be reliable," he added.
"While the majority of charities receive no government money at all, reforms announced in last year's budget are expected to provide £600m to the sector over the lifetime of this Parliament.
"We recognise this is a difficult time for charities, voluntary organisations and social enterprises and that's why we set up the transition fund to help them manage the transition to a tighter funding environment and take advantage of future opportunities presented by the big society."
The report says it appears that charities in the North West and North East of England are overrepresented in the transition fund sample, while charities in the East of England and the South East are underrepresented.
Mr Thomas told BBC News: "David Cameron's claim that in his Big Society we're all in it together was never credible, but this leaked report confirms that ministers were being given independent evidence showing charities were going to be hit very hard by funding cuts, with the poorest and most deprived areas being hit hardest. Yet ministers have failed to act."
Another group, the National Council for Voluntary Organisations (NCVO), said the past year had been an "annus horribilis" for charities facing a triple whammy of increased demand, rising costs and an unprecedented fall in income.
Sir Stuart Etherington, NCVO Chief Executive, has warned much more needs to be done to help charities currently struggling against the tide of spending cuts, rising costs and increased demand.
A spokesman for Acevo declined to comment.