Diamond Jubilee: 'Big Lunch' launched at palace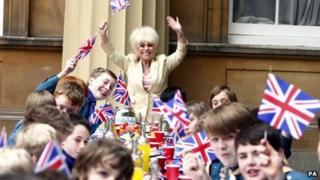 Former soap actress Barbara Windsor joined dozens of scouts at Buckingham Palace to launch a "Big Lunch" campaign for the Diamond Jubilee.
The campaign is to encourage people to hold street parties on 3 June to mark 60 years of the Queen's reign.
While the guests enjoyed sandwiches, scones and cupcakes, Miss Windsor said a street party was also a chance to enjoy "all different kinds of foods".
The Scout Association has pledged to help organise parties across the UK.
Miss Windsor arrived at the palace grounds with a trifle to share with Scouts from the Lewisham North Scout Groups.
Roast dinner suggestion
Appointed an "ambassador" for the campaign two years ago, she said: "All we ask is for people to have lunch with their neighbours on June 3rd, that's not too much to ask is it?
"The street parties were a big success when we did them at the royal wedding and they weren't just in London, they really captured the spirit of the whole nation."
She said such parties were good for experiencing "all different kinds of foods" but "The English tend to let us down a little bit, so I say, bring out the roast dinners."
With three months till the Diamond Jubilee weekend, Scouts are already planning their parties, said Scout leader Olly Goodchild.
"Across Britain Scouts and their volunteer leaders will be sitting down with other members of their communities to share a meal, have fun and make new friends. Being part of something like this is what makes Britain great and we are proud to be part of it."