Newspaper review: Focus on Putin and Andre Villas-Boas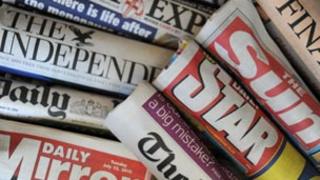 Few newspapers are surprised by Vladimir Putin's re-election as Russian president.
The Guardian saidhis election was more of a coronation than an election.
The Daily Mirror saysstate propaganda and vote rigging guaranteed victory.
Neverthelessthe Financial Times saysforeign investors are likely to welcome a clear-cut result, but may worry that any final total well above 60% might inflame protests by Mr Putin's opponents even more.
There is also an inevitability about the sacking of the Chelsea manager Andre Villas-Boas.
The Daily Express saysthe sacking confirmed what everyone could see was coming for weeks.
The Guardian saysAVB had started to wear a familiar, haunted look - the kind that, at Chelsea, tends to precede a sinister visit by owner Roman Abramovich.
Among those tipped to take over are Barcelona boss Pep Guardiola and former Chelsea manager Jose Mourinho.
The Daily Telegraph saysthe Chancellor is to water down plans to strip middle-class families of child benefit after a rebellion by Tory backbench MPs.
The Express saysup to a million better-off households will keep the payment - those earning more than £50,000 a year will lose out.
The Daily Mail's main storyis that nearly 850 registered sex offenders are on the run from the police.
It says most have been missing for more than a year.
Finally, the hunt is on for the meteor that streaked over the skies of Britain on Saturday evening.
The Independent saysit has triggered a treasure hunt - fragments could contain debris from the birth of the solar system 4.5 billion years ago.
Given it was last seen by people in Devon,the Times saysmany believe it fell in Normandy or the Bay of Biscay.
An experttells the Mirrorthe debris would be black on the outside and grey on the inside.