Newspaper review: Coalition benefit 'split' considered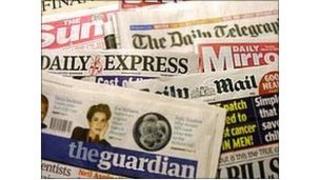 The idea that there may be divisions in the government over plans to withdraw child benefits from higher rate tax payers is explored in Tuesday's newspapers.
The Guardian feels the government is struggling to keep a united front,calling it the first major policy clash between Number Ten and the Treasury.
TheDaily Mail says both sides appear at oddsabout how to respond to a threatened revolt by Tory MPs.
It argues that the coalition appears to have no idea how to fix the situation.
TheDaily Express is not optimistic about Russia's futureafter Vladimir Putin's Presidential election victory.
The paper suggests the country is now no better off than under the Communists.
TheSun accuses Downing Street of ducking out of criticisingeither Mr Putin or the election process.
TheGuardian thinks his return to power has led to an unprecedented movement against his ruleand theIndependent sees the discontent as welcome evidence of a new mood in the country.
TheDaily Telegraphsays the leader of the Roman Catholic Church in England and Wales has made a major intervention in the debate on gay marriage.
It reports that he will warn in a letter to be read at Sunday Mass this weekend that redefining marriage would strip it of its "distinctive nature".
Meanwhile, British Ambassador to Syria Simon Collis, gives theTimesan insight into the mood in the country.
He says the military is demoralised and the economy is collapsing.
There is a sense of disbelief in the Daily Star as it describes howa financier ran up a bar bill of nearly £204,000 at a club in Liverpool on Saturday night.
The man, said to be a currency trader in his 20s, spent £125,000 on a bottle of Armand de Brignac Midas champagne.
He spent another £80,000 on champagne, vodka, beer and mixers.
A night out with him might sound fun, suggests the Sun -until he tells you it is your round.