Algerian terror suspects win deportation appeal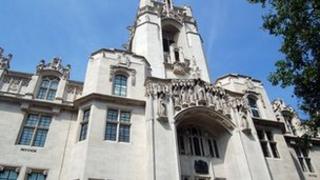 Home Secretary Theresa May has lost three appeals to the Supreme Court by suspected Algerian terrorists over their deportation back to Algeria.
The court unanimously agreed to allow one of the Algerian nationals to call a witness to give evidence at the Special Immigration Appeals Commission (SIAC).
Mrs May had argued the witness's evidence could not be tested and might reveal information on terror threats.
Algeria has assured the UK that the applicants would not be ill-treated.
But human rights campaigners have previously criticised the deal struck between the two countries as legally worthless.
Torture has been systematically practised by state officials in the African country, and none has ever been prosecuted for it, the court heard.
The witness called on by the Algerian national was said to have inside knowledge on this and would only take the stand on condition that his evidence remained confined to the SIAC.
None of the men can be identified.
The home secretary has been in Jordan to try to secure the deportation of the radical Jordanian-born cleric Abu Qatada from the UK.
A UK judge ended Abu Qatada's six-year detention last month after the European Court of Human Rights had blocked his deportation to the country.