London 2012: Olympic memorabilia goes under the hammer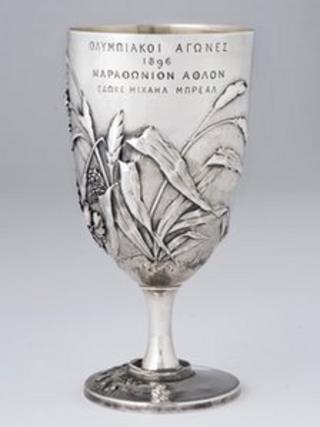 The winner's cup from the first Olympic marathon at the Athens 1896 Games is to go on sale at Christie's in London as part of an Olympic memorabilia auction.
The Breal's Silver Cup, presented to Greek Spyridon (Spyros) Louis, is expected to reach between £120,000 and £160,000 on 18 April.
The 15cm cup is being sold off by the runner's grandson alongside Olympic posters and relay torches.
The cup is named after Frenchman Michel Bréal, the man behind the race.
He was inspired to stage the contest by the legend of the messenger Pheidippides, a herald in ancient Greece, who ran 25 miles from a battlefield near Marathon to Athens when the Greeks claimed victory over Persia in 490BC.
Heritage trophy
Ten out of 17 competitors finished the first modern Olympic marathon race in April 1896, one having taken a carriage part of the way.
Louis finished in the Panathenaic stadium in under three hours and was presented with the cup, a medal, a vase, an olive branch and a diploma.
The Christie's sale will also include eight Olympic relay torches, including one from the first torch relay to Berlin 1936.
Olympic advertising posters from the first London Games through to the 1960s will also be on sale.
Spyros Louis (junior) said: "Our family has been very proud to have the honour of looking after this important historical sporting trophy for the last 116 years and my grandfather's achievement of winning the first ever marathon, at the first modern Olympic Games, will remain part of my family's heritage forever.
"It is time to look to the future - I have two children, and the most important thing for me is to ensure that they are looked after as well as possible."
The 179 lots in the whole sale are expected to fetch more than £700,000, Christie's said.