London 2012: Heathrow Airport tests Olympic baggage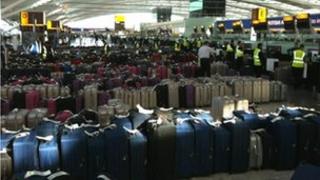 Heathrow Airport has been tested with thousands of extra bags in a simulation designed to assess its readiness for the London 2012 Olympic Games.
Operator BAA sent 3,000 pieces of luggage through handling at Terminal 5 in two hours on Thursday morning.
It is preparing for days like 13 August, when an extra 43,000 passengers carrying 58,000 extra bags are expected to depart the UK via the airport.
Extra handling staff were brought in for part of a series of system tests.
It is estimated that as 'host airport' Heathrow will welcome 80% of all Games passengers, from athletes and officials to sponsors, media and spectators.
The days before the opening and after the closing ceremonies of the Olympics - 26 July and 13 August - are expected to be the busiest, with the Monday after the Games predicted to be the busiest in the airport's history.
Then, 218,000 bags are expected to be checked in to leave, up 35% on a normal summer holiday day.
About 1,000 volunteers will be taken on to help out during the Games and a special temporary departures terminal will be built.
BAA will look at the data from the baggage tests and other systems tests across the airport.
A BAA spokeswoman told the BBC: "This is part of a series of trials to make sure we're prepared for the Olympics."