London 2012: Olympic flag bearer role for armed forces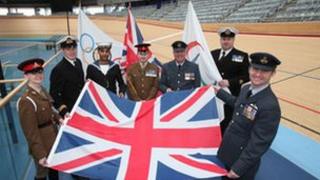 Military service personnel have been chosen to be flag bearers at team welcome and victory ceremonies during the Olympic and Paralympic Games.
A total of 176 servicemen and women have been selected for the role in recognition of sporting or operational achievements, or community involvement.
Dressed in ceremonial day uniforms, they will oversee more than 100 welcome ceremonies and 805 victory ceremonies.
They were all chosen through a Ministry of Defence nomination process.
Seb Coe, chairman of the London Organising committee of the Games (Locog), said: "The flag raising duties at Olympic and Paralympic Games are seen as an honour but we are in fact honoured to have these inspirational men and women be part of London 2012."
Formal welcome
Teams will consist of six flag bearers and one flag manager.
There will be eight Royal Navy teams, nine Army teams, eight RAF teams and one overall commander.
Welcome ceremonies will take place between 14-26 July for the Olympic Games and between 20-28 August for the Paralympic Games.
They are to formally welcome the athletes and team officials to the Games and include the protocol of raising flags.
The National Youth Theatre will create, write, stage and perform the ceremonies which will welcome more than 200 Olympic teams and more than 170 Paralympic teams.
After medals are awarded at the victory ceremonies, the flags of the gold, silver and bronze medal-winning athlete's countries are raised while the national anthem of the country or territory of the winning athlete is played.
The anthems will be recorded by the London Philharmonic Orchestrain advance of the Games.
Speaking about being chosen as a flag bearer, Gunner Zanna Bateman said: "This is fantastic, I feel so honoured to be chosen to be part of these events.
"It will be something to talk about for the rest of my life, mum will be so proud!"
Squadron Leader Lee Cobley said: "As a keen athlete and organiser of RAF squash for many years it always feels good to put something back into sport, and what greater way is there than assisting at the Olympic and Paralympic Games?"