Newspaper review: Papers pour scorn on rich bankers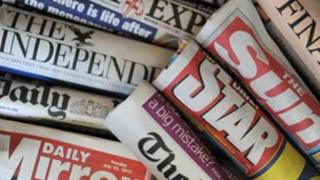 TheDaily Mailtalks of the banks' "day of shame" as it reports on the multi-million pound pay packages awarded to the bosses of Barclays, Lloyds and Royal Bank of Scotland.
According to theDaily Mirror, the £19m paid to Bob Diamond, chief executive of Barclays, shows bankers have learnt nothing from the economic crisis.
It says the windfall was a slap in the face for millions enduring austerity.
Under the headline "Diamond Heist",the Sunclaims he was paid a mere £18m.
The Timeshas seen a letter to the chancellor by Britain's biggest pension providers and business organisations.
The paper says they warn him that any assault on pensions in this month's budget would "catastrophically undermine" trust in a system already in crisis.
TheDaily Telegraphalso has that story - and a letter of its own from Joanne Segars, the chief executive of the National Association of Pension Funds.
She says the government needs to stop tinkering with pensions.
The government is taken to task by theDaily Expressover the proposed withdrawal of child benefit from families with a higher rate taxpayer.
It says research by the Centre for Social Justice suggests the policy would provide couples with a financial incentive to split up.
A crack Portuguese police unit has launched a major review into the hunt for Madeleine McCann,says the Mirror.
A lawyer told the paper officers have opened a "cold case probe".
The recession is hitting young black people disproportionately hard, according tothe Guardian.
It says government statistics show that more than half the young black men available for work in Britain are unemployed and their jobless rate has risen faster than the rate among young white men.
The Sunleads on an interview with the Bee Gee, Robin Gibb.
He says fighting cancer, and the deaths of his two brothers, have given him a sense of urgency about life.