News of the World man held over suspected witness intimidation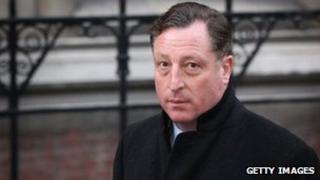 A former News of the World journalist has been arrested in connection with suspected intimidation of a witness.
The arrest of Neville Thurlbeck, by police investigating phone hacking, also related to an allegation of encouraging or assisting an offence.
Mr Thurlbeck was bailed until next month. Last April, he was arrested on suspicion of conspiring to hack phones.
After his release, Mr Thurlbeck wrotein a blog post: "I vigorously deny the allegations of any wrongdoing."
Mr Thurlbeck had been a chief reporter at the News of the World (NoW), which was closed down last year because of the phone-hacking scandal.
A statement issued by the Metropolitan Police said a 50-year-old man had been arrested "by appointment" at a central London police station by officers from Operation Weeting - the inquiry into phone hacking.
It said the same man had previously been arrested on 5 April last year on suspicion of conspiring to intercept communications and unlawful interception of voicemail messages.
Mr Thurlbeck is a prominent figure in the phone-hacking scandal as the Neville referred to in the infamous "For Neville" email.
It has been suggested its existence proves James Murdoch, former executive chairman at the NoW's publisher News International, knew wrongdoing went beyond a single reporter.
But, in aletter to the Commons Culture, Media and Sport Committeeinvestigating phone hacking, Mr Murdoch wrote: "I take my share of responsibility for not uncovering wrongdoing earlier."
However, he insisted: "I have not misled Parliament. I did not know about, nor did I try to hide, wrongdoing.
"I do not believe the evidence before you supports any other conclusion."
He went on: "Clearly, with the benefit of hindsight, I acknowledge that wrongdoing should have been uncovered earlier.
"I could have asked more questions, requested more documents and taken a more challenging and sceptical view of what I was told, and I will do so in the future.
"I have sought to explain, however, that it was reasonable for me to rely on my senior executives to inform me of what I needed to know. In this case, the approach fell short.
"But it is important to know that I did not turn a blind eye. I was given very strong assurances about investigations recently done, and these assurances were echoed by the Metropolitan Police."
Mr Murdoch stepped down from his News International post last month, and has relocated to New York to focus on News Corporation's international TV operations.
Properties searched
On Tuesday, former News International chief executive Rebekah Brooks was among six people arrested by Operation Weeting officers on suspicion of conspiring to pervert the course of justice.
Mrs Brooks, her husband Charlie, News International head of security Mark Hanna and three other men were later freed on bail until April.
Addresses connected to the arrests were searched by police.
Mrs Brooks was arrested under Operation Weeting last July on suspicion of conspiring to intercept communications, before being released on police bail.
She has also been arrested on suspicion of corruption as part of the Operation Elveden investigation into corrupt payments to police.