Leveson Inquiry: Local and national media 'different'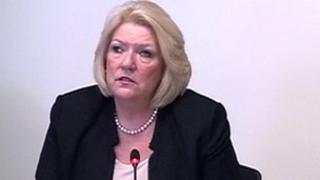 The practices of local media contrast hugely to national media who are able to "sweep in" and "sweep out again", the Leveson Inquiry has been told.
Police and media told the press ethics inquiry about the coverage of high-profile murders in Cumbria and Suffolk.
Cumbrian Newspapers' associate editor Anne Pickles said the approach at its publications "contrasts hugely to anything that triggered this inquiry".
"We have to live with the people on whose lives we are reporting."
She told the inquiry at London's Royal Courts of Justice: "It's always been my experience that national media are able to sweep in - do what they do - and sweep out again into some sort of black hole of anonymity.
"We live and work with those people every day - they are part of our community."
She said when there was a "fuss" about media behaviour, local and regional media suffered a backlash of disdain.
"We've had: 'I've been watching the Leveson Inquiry, I know how you people work'," she said.
Ms Pickles said there was an understanding that police and media served a common purpose and community, and she was unaware of any trust issues from either side.
There were only two people in the Cumbria police's press department, and they were probably badgered by media more than they would like, she said.
"We're not exactly whizz-bang in terms of perhaps national media, and some of the perhaps big four publishers - the big four groups; we are local. We use our local police station, we use our local bobbies to let us know what's going on."
Ms Pickles referred to 2010 when taxi driver Derrick Bird shot 12 people in Cumbria, saying there was naturally extreme sensitivity within the community.
She said journalists "didn't want to spend a lot of time harassing victims' families" and worked very closely with the police liaison team.
"For all it was a dreadful, dreadful incident, it was - perversely I know - an extremely successful police local media operation," she added.
Met Deputy Commissioner Craig Mackey - formerly chief constable of the Cumbria Constabulary - and Cumbria Constabulary's head of communications Gillian Shearer described the different approaches taken by local and national media during the case.
They said media had approached some families before police had informed them that their next of kin had been involved.
Mr Mackey told the inquiry that national media had already been in the area because of a funeral being held the day of the shootings.
"So rolling news programmes are taking footage of a scene - particularly one of the first scenes outside the taxi rank where there is a body covered and members of the family could identify who it was from that," he said
Ms Shearer said police had issued instructions to all media for dealing with the relatives of victims.
"The local media adhered to those, whereas the national media didn't."
She said that the police communications team found the national media was "very aggressive towards us".
"We found them very difficult to please".
2006 serial killings
East Anglian Daily Times editor Terry Hunt earlier told the inquiry that his paper had to keep "very balanced and very contextual" in terms of its coverage of the 2006 serial killings in Ipswich.
He said the case was horrifying and "an unprecedented story for Suffolk" but needed to be balanced with the fact that Suffolk was generally a very safe county.
He said the nationals reporting on the case did not have the same responsibility.
"One or possibly more of the nationals would take a picture of the centre of Ipswich on a Monday night and suggest it was quiet because everyone was frightened, which wasn't the case.
"Obviously people were taking additional precautions, but my perception at the time was not that everyone was going home and locking the doors... It probably would have been quiet under normal circumstances, so it wasn't anything exceptional."
The inquiry also heard crime reporters Colin Adwent - of the East Anglian Daily Times - and Nick Griffiths - of the Carlisle News and Star, who spoke of the importance of gaining police trust.
Suffolk Constabulary Chief ConstableSimon Ashand head of corporate communications for Norfolk and Suffolk PoliceAnne Campbelldetailed their force's system for logging media contact.
The Leveson Inquiry has two parts, the first of which is examining relations between the press, politicians and police, and the conduct of each.