Italy arrests man over Milan synagogue 'plot'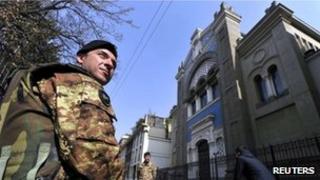 A man aged 20 has been arrested in northern Italy on suspicion of plotting an attack on a synagogue in Milan.
The suspect, described as Moroccan-born, was said to have had details of the synagogue and plans for an attack on his computer.
Police in London said a 40-year-old woman was also arrested on suspicion of collecting information useful to terrorism.
Scotland Yard said they were liaising with the Italian authorities.
Although the woman arrested in London is not thought to have been involved in the Milan plot, she is believed to have been in touch with the 20-year-old suspect.
Italian Interior Minister Anna Maria Cancellieri said that the matter was being treated "very seriously", although there was no terror alert in particular.
The suspect, who is said to have lived in Italy from the age of six, was said to have been arrested in the city of Brescia in the early hours of Thursday.
Claudio Galzerano, head of Italy's police anti-terrorism unit, told BBC News that the operation was a "result of monitoring of the internet that we've been doing for a while on a radical Islamic website".
According to Mr Galzerano, the man had operated a Facebook group involving around 10 members in which there were "instructions and manuals for explosive devices".
Although no chemical substances were found when he was arrested, the official said the man had a plan of the Milan synagogue on his computer.
"If a normal person had done this, I would be worried," he said. "If a jihadist does it, I'm a hundred times more worried."