Newspaper review: Papers look ahead to 2012 Budget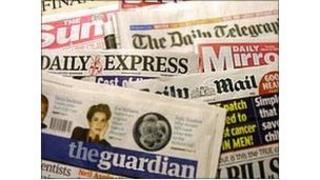 On the eve of the Budget, the newspapers are full of advice and stern warnings for the chancellor.
TheIndependentsays cutting the 50p top rate of income tax would be a "huge gamble" for George Osborne and Prime Minister David Cameron.
Howard Davies, in theFinancial Times,says removing it would suggest ministers care more about their own right wing than wider public opinion.
TheGuardian quotes a "government source" as saying that the rich will end up paying twice as much taxas they win back under various other changes.
Rachel Sylvester, writing inTimes,sees the power struggle over policies at Westminster ahead of the Budget as a re-enactment of the English Civil War.
She cautions that the coalition "looks like a government of Cavaliers in a Roundhead Age".
"Only 24 hours to save the NHS," says the Daily Mirror,reporting on Labour's bid to halt NHS changes in England.
Labour will propose that the Health and Social Care Bill is delayed until an assessment of the risks is published.
TheSun claims growing numbers of terrorists are using online war games to plot attacks.
It says the games allow players to speak to each other with headsets, avoiding surveillance and disguising discussions as a harmless fantasy game.
Many papers describe the celebrations of the group of bus drivers who have won the EuroMillions Lottery.
TheDaily Mail sympathises with a woman who pulled out of the syndicate before their big win.
TheDaily Express,on its front page, notes that the Duchess of Cambridge wore the same dress to a function as one worn by her mother to Ascot races in 2010.
Its headline says: "Thrifty Kate and her mother are sharing their clothes."
A number of papers report that Bolton midfielder Fabrice Muamba has woken up and is talking after collapsing.
TheDaily Mirrorsays he asked about his son's whereabouts, whilethe Sun's headline is "Muamba speaks".