London 2012: Coe rules out Games 'chaos' at airports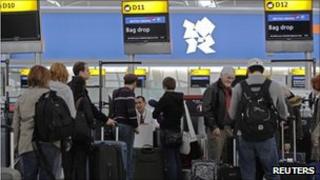 London 2012 Games chief Seb Coe has said UK airports will continue to operate well during the Olympics, in the wake of airlines voicing concerns about congestion of British air space.
"There won't be chaos," he said. "Heathrow Airport operates at full capacity all the time."
He added that "we have a very good operational plan", with Heathrow "operating a very effective service".
On Saturday four major airlines wrote to the government to air their views.
Lord Coe, who was visiting Rio de Janeiro to discuss the 2016 Olympics with its organisers, said a temporary terminal being built at Heathrow just for athletes would "ease some of the capacity during the Games".
Andy Garner, Director of London 2012 at Heathrow, said: "The London 2012 Games will be a huge operational challenge for Heathrow which is why we have been planning for it since London won the bid in 2005."
A spokeswoman for BAA, which operates Heathrow Airport, said the temporary terminal, along with baggage collection from the Athletes' Village, "will divert over 10,000 passengers, nearly 38,000 bags and a significant number of coach movements from the main terminals".
But the heads of four leading airlines - British Airways, BMI, Virgin Atlantic and Easyjet - do not appear to share Lord Coe's views, and their letter said there was little time remaining to tackle the expected surge in air traffic and its impact.
"As the situation currently stands the industry believes that there is a significant risk of severe delay and disruption at all of London's major airports unless urgent action is taken," they wrote.
"Time is running out to ensure that any changes to procedures and the appropriate training are in place prior to the Games."
The UK anticipates an additional 700,000 international travellers during the Olympics, which open on 27 July.
The day after the closing ceremony isexpected to be the busiest in Heathrow Airport's history. Some 218,000 bags are expected to leave the airport on 13 August, compared with the previous peak of 160,000.
A Department for Transport spokeswoman said special measures were planned to prevent scheduled air services from disruption, by increasing air space capacity as well as putting in temporary restrictions for some air traffic.
"We are confident that the majority of these additional issues have now been addressed and we look forward to discussing them with the airlines concerned at a meeting next week," she said.
The four airlines are meeting the government and Civil Aviation Authority on Thursday.
Heathrow Airport is the busiest in London and runs at 99% of its capacity on an average day, while Gatwick operates on full capacity at peak times.
Recent disruptions to airports caused by bad weather have previously causedmajor disruptions.
Businesses and airlines have long said that Heathrow needs a third runway to cope with rising demand, but this was blocked by the government two years ago.
However Prime Minister David Cameronsaid on Monday that there was a need for more airport capacity in the South East, adding that the UK needed to remain a key global hub and ministers would study the case for a Thames Estuary airport.
Last week, Sir Richard Branson, owner of Virgin Atlantic,called for a third runway to be built at Heathrow.
Transport Secretary Justine Greening is expected to announce a new airport capacity review this month.