Judith Tebbutt: Freed hostage prepares to fly home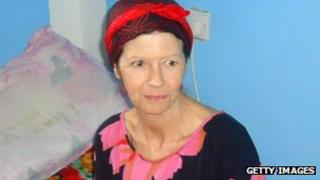 A woman kidnapped from a remote beach resort in Kenya and held hostage in Somalia for more than six months is preparing to return home to Britain.
Judith Tebbutt, 56, from Bishop's Stortford, Hertfordshire, was freed on Wednesday and flown to Nairobi after her family paid pirates a ransom.
She was reunited with her son Oliver at the British High Commission there.
Mrs Tebbutt, whose husband David was shot dead during her abduction, said she was overwhelmed by "immense grief".
It is unclear how much was paid as a ransom to her kidnappers, but the Times claims $1.3m (£800,000) was dropped from an aircraft.
'Devastating loss'
A further $32,000 (£20,000) was paid to cover the pirates' costs in "accommodating" Mrs Tebbutt, the newspaper reported.
It said negotiations were carried out by private security firm Control Risks.
The UK Foreign Office said it did not make or facilitate ransom payments.
Paying the ransom was not illegal because it was not known to be going to a terrorist organisation, BBC security correspondent Frank Gardner said.
Mrs Tebbutt, a social worker, revealed she did not know her husband had been killed until two weeks after her kidnap.
Mr Tebbutt, 58, who worked for publisher Faber & Faber, was shot by a gang of six men during the abduction at Kiwayu Safari Village, a luxury resort north of Lamu island.
The couple had arrived only the previous day and were the only guests.
In a statement, Mrs Tebbutt said: "I am of course hugely relieved to at last be free, and overjoyed to be reunited with my son Ollie.
"This however is a time when my joy at being safe again is overwhelmed by my immense grief, shared by Ollie and the wider family, following David's passing in September last year.
"I hope that while I adjust to my freedom and the devastating loss of my husband, that I and my family will be allowed space, time and most of all privacy, to come to terms with the events of the last six months."
Adjoa Anyimadu, a research assistant at British think-tank Chatham House, said the pirates wanted to make as much money as possible and did not necessarily have an "ideological attitude" behind their activity.
She told BBC One's Breakfast programme: "For hostage takers and for pirates the main objective is to hold people as long as possible and make as much money out of them as possible."
She said it was a "business model" which the authorities in Kenya were "taking as fierce an action as possible" to stop.
Mrs Tebbutt is expected to fly back to the UK later on Thursday to be reunited with friends and relatives.
Last year, two men appeared in court in connection with the attack, with both denying the charges.
One of them, Ali Babitu Kololo, told the court he had been forced at gunpoint to lead a group of men to the hotel and had not been a willing accomplice.