Newspaper review: Press digest alcohol price fixing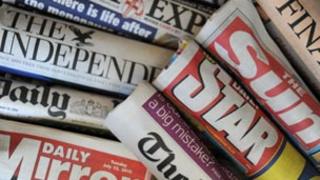 The government's plan to introduce a minimum price per unit of alcohol in England and Wales makes headlines in the day's newspapers.
The Daily Mail says David Cameron's assault on cheap alcoholdescended into a fiasco within hours, after drinks firms threatened legal action.
They are said to believe the proposal is illegal under European Union competition law.
But Downing Street says the price restrictions would not break EU laws.
Tax complaints
The "granny tax" continues to draw negative coverage from the press.
The Independent's political editor, Andrew Grice,says that in the public's mind, a tax cut for the rich is being funded by an attack on pensioners.
For the Times, however,it is difficult to see how spending can be reduced without pensioners making some sort of contribution to the savings.
The Mail says the "compromise" Budget has not truly pleased anyone- and incurred the wrath of the elderly.
"British summer has arrived",the Times proclaims- alongside a picture of a deck chair.
It says that unusually, the arrival of British Summer Time on Saturday night has also marked the arrival of the British summer.
Homesick holidays
For the Daily Telegraph,a barbecue weekend is in prospect, with temperatures double the usual for March.
The Daily Star declares:"Forget spring... here comes the summer".
Engelbert Humperdinck, 75, tells the Telegraphage will be on his side when he represents the United Kingdom at this year's Eurovision Song Contest.
The singer says: "I'm sure the younger artists will feel nervous against someone with a lot of experience".
A study has found that British holidaymakers start to miss home four days and 14 hours into their break.
Researchers tell the Daily Express:"We are a nation that appreciates our home comforts."
Another ageing crooner, Tom Jones, tellsThe Sunhe is staking his reputation on the BBC's The Voice talent show.
The 71-year-old, who will appear as a judge on the programme as it seeks to take on ITV's Britain's Got Talent, said: "You are throwing yourself out there and making decisions."