Newspaper review: Papers discuss Cameron's U-turn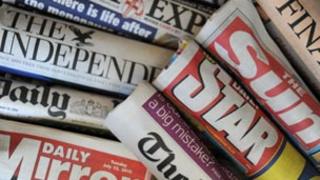 The papers agree there was chaos at Number 10 after David Cameron was forced into making a U-turn.
He named the Tory party donors who dined at Downing Street and Chequers after earlier refusing to do so.
The Independent says it's "ludicrous"to pretend there is no cause for concern because food was served in the prime minister's private residence, rather than in government rooms.
The Sun argues that an independent inquiry must investigate further.
Brain power
The Daily Mail reports that an increasing number of dementia sufferersin England are restrained by being locked in rooms, placed in beds which high railings and strapped into chairs.
According to the Guardian,more than a third of babies born this year could go on to receive a 100th birthday message.
This would be from the king or queen in the second decade of the 22nd Century.
The Independent says the prolonged life expectancywill mean a larger workforce containing more experienced brains.
"Senseless" is the Daily Mirror headlineabout the three gang members found guilty of shooting and paralysing five-year-old Thusha Kamaleswaran during an attack in south London.
Chocolate diet
"Petrol strike chaos to cripple Britain" is the Daily Express headline.
The paper predicts that 90% of forecourts will shut if tanker drivers go ahead with strike action.
The Mail says motorists are being "held to ransom"by 1,000 militant drivers in the union, Unite.
The Daily Telegraph says that the pressure cooker is making a comeback.
The paper says sales are booming in these times of austerity.
Apparently, the new generation of pressure cookers are faster and easier to use than their predecessors.
The Daily Mail has good news for chocolate lovers.Scientists in America have found that those who eat an above average amount of chocolate are statistically more likely to be thinner.