Newspaper review: Petrol and pasties dominate headlines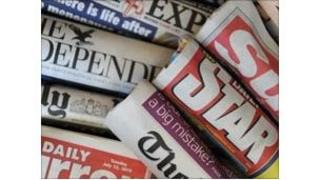 Petrol and pasties are recurring themes in Thursday's newspapers.
Filling up the family car and buying a hot snack are two of the simple realities of everyday life,according to the Daily Mail.
It says both have conspired to plunge the government into a combination of high farce and panic.
TheIndependent says David Cameron's problems began after he claimed to have eaten a pasty at Leeds station,a claim that was later questioned.
TheDaily Telegraph says the prime minister's claim to be a pasty lover became problematic after it emerged the shop he claimed to have bought it from had closed in 2007.
TheDaily Mirrorreports that another outlet at the station closed two days after the chancellor announced he was putting VAT on hot takeaway food sold in shops and supermarkets.
TheSun offers readers a free pie, pasty or sausage roll.
It urges them to eat it at exactly 1pm in protest at the so-called "pie tax".
TheTimesreports that Downing Street has been accused of prompting panic-buying of petrol.
It comes ahead of a possible strike by fuel tanker drivers.
AHouse of Lords committee report urging ministers to abandon plans to increase overseas aid by nearly 40%is backed by the Daily Express.
Andthe Daily Mail says the report cannot be ignoredat a time when British families are suffering the biggest income drop for 35 years.
Plans by Chancellor George Osborne to cut £10bn a year from the welfare budget have been resisted by the Department for Work and Pensions, theFinancial Timesreports.
It comes after the chancellor laid out his plans in last week's Budget.
And theDaily Mirror reports that coach Stuart Pearce is stepping up plans to lead the England football team into the Euro 2012 tournament.
The Daily Star cover the story with the headline:"Stu calls the shots."