Newspaper review: Petrol controversy fallout examined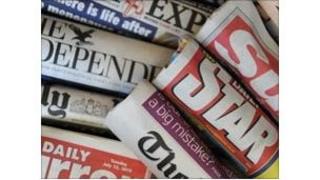 The continued fallout from the twin controversies of petrol and pasties are recurring themes in Friday's papers.
It has been the worst week for the Conservative Party since David Cameron came to power, according to theTimes.
A row about the Budget, the party funding scandal and "a fuel crisis made in Downing Street" has put the prime minister on the back foot, it says.
Similarly, theGuardian thinks we may look back on this week as the moment government wheels "started to wobble".
"Where are all the northern Tories,"asks the Daily Telegraph.
It believes the government should rely less on David Cameron and George Osborne to explain policy, and give more prominence to Eric Pickles, William Hague and Lady Warsi.
The government appears increasingly out of touch, says the paper, and that could mean "out of office".
Meanwhile, theDaily Starhas a story about a teenager who only eats cheese and tomato pizzas.
The rise in duty on pasties and sausage rolls still rankles with the Sun.
It asks readers to picture coalition MPs enjoying sumptuous, subsidised meals at Westminster before voting through a 20% price rise on hot snacks enjoyed by"skint working people".
TheIndependentsees benefits in the fuel panic-buying spree.
It will bring an extra £32m to the Treasury's coffers from fuel excise duty, with sales rising by 81% in 24 hours, it says.
TheDaily Starand the Sun report that a man in south Wales, who lives like an Apache, is in "heap big trouble".
The papers report that his problems relate to the fact thathe has been keeping badger paws and eagle wings at his semi-detached house in Swansea.
Mangas Coloradas, formerly known to his neighbours as Mr Davies, reportedly appeared in court on Thursday in full ceremonial dress.
He was released on bail for trial in August, the papers report.