London 2012: ORN night drivers urged to avoid whistling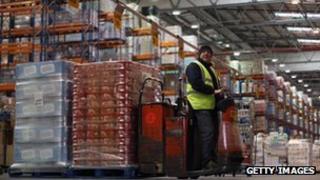 Delivery drivers have been asked to avoid whistling or shouting when making late-night stops during the Olympics to limit disruption to Londoners.
Transport for London (TfL) has issued a code of conduct for firms which also includes switching off reversing alarms and radios and closing doors quietly.
The code will apply when the Olympic Route Network (ORN) comes into force.
The network, which aims to reduce congestion, will result in existing loading bays being closed.
As a result, more deliveries will have to take place between midnight and 06:00 BST when the ORN is not enforced.
There will be access and delivery time restrictions along the ORN and surrounding areas, and around the 13 Games venues in London, according to the Department for Transport.
The code of conduct was developed with the Noise Abatement Society and the Freight Transport Association.
'Good night's sleep'
It prescribes that external bells at delivery points are avoided, rubber buffering material is used between hard surfaces and delivery equipment is serviced to minimise noise.
Drivers are warned to plan ahead, avoid allowing engines to idle and not "whistle or shout to get the attention of store employees".
London Transport Commissioner Peter Hendy said the challenges surrounding deliveries were "considerable".
Nick Lester, corporate director for services at London Councils, said: "London's councils are working hard to ensure that businesses can keep running as smoothly as possible during the Games and to minimise disruption to residents.
"While enforcement will be as light-touch and flexible as possible, boroughs will continue to enforce against any business stopping Londoners from getting a good night's sleep."
Martin Schulz, TNT Express's project manager for London 2012, is among those who has expressed concern over delivery restrictions during the Games.
He said that while TfL was "pushing everyone towards nighttime deliveries" it would not be possible in every case and the company was "losing the ability" to serve customers.
TfL said councils would be "supportive and sympathetic to the needs of businesses needing out-of-hours deliveries during the 2012 Games".
The ORN will operate from 25 July and a similar system for the Paralympics, the Paralympic Route Network, will end on 14 September.